Today marks International Carrot Day and Organix were kind enough to send Amber a few of their carrot flavoured snacks to try. If you've followed my posts on Instagram you'll know that I love the Organix brand of kids snacks. Their blueberry/raspberry mini rice cakes are Amber's favourite snack, as are their oat bars.
Carrots as well as being delicious and versatile are a good source of vitamins, beta carotene and dietary fibre. They absorb flavours so well, so it's no wonder kids love them!
Organix have a strict 'No Junk Promise' which is where they commit to never adding anything unnecessary, for example no added sugar or salt.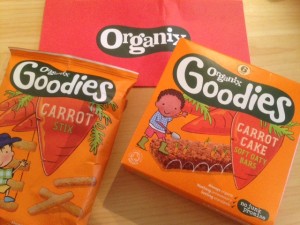 Amber was sent a bag of Carrot Stix (these taste amazing by the way!) and a pack of Carrot Cake oat bars.
First of all the packaging is bright and informative on the back of the products you'll find nutritional information and a information about the ingredients.
Amber loved these, we've tried the carrot cake bars before but the carrot stix were a new experience for her and she loved them. Coriander is added to the ingredients which gives the stix a delicious after-taste and it's a good way of introducing kids to herbs.
The macro's and ingredients for both products passed my test. And the product is suitable for vegetarians
Organic Ingredients (Carrot Stix) Corn 68%, Sunflower oil 13%, Carrot Powder 12%, Potato Powder 6%, Onion Powder (contains rice flour) 1%, Dried Coriander Leaf 1% and there is also added Thiamin (vitamin B1) This adds up to the 100% list of ingredients.
Macros (15g Bag) 66kcals, 2.2.g fat (0.3g sat), 10.1g carbs (1.1g of which sugars), 0.5g fibre, 1.1g protein, 0.01g sodium, 0.02g salt and 0.09mg of thiamine.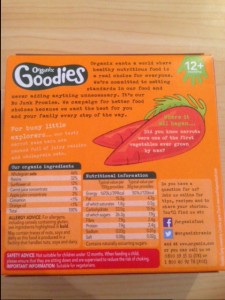 Organic Ingredients (Carrot Oat Bars) Wholegrain Oats 46%, Raisins 32%, Sunflower Oil 12%, Carrot Juice Concentrate 7%, Apple Juice Concentrate 2%, Cinnamon 1%, Orange Oil 1%, which again makes up the 100% of ingredients.
Macros (per 30g bar) 120kcals, 4.7g fat (0.5 sat), 15.9g carbs (7.9g of which sugars, 2.4g fibre, 2.4g protein, 0.01g of sodium ad 0.02g salt.
Again as you can see no sugar is added and the products only contain naturally occurring sugars.
Wholegrain oats have so many benefits including helping to regulate blood sugar which may help reduce the risk of type 2 diabetes (a big problem in this country, and they make you feel fuller compared to refined grains such as white bread/cookies. These bars are still sweet and are a fantastic alternative to unhealthy sugary treats.
Organix Goodies range is widely available from supermarkets.
For more information on their products you can visit their social media pages Organix Twitter or Organix Facebook