Last week I had the opportunity to sample a great sounding new whey protein. At the moment I use whey protein probably every few days, either in a smoothie, nutriblast or in baking. I've spent the last 12 months trying different brands and usually they are far too sweet, upset my tummy or don't mix well. But I eventually found two which I now use exclusively.
The Organic Protein Company's tweets kept showing up on my Twitter and Instagram feeds so I decided to get in touch to find out more. Funnily enough as I pressed 'send' I got a reply back saying "We were just about to message you to ask if you wanted to try our protein." Win, win.
My parcel arrived the next day. Usually sample packs are tiny but I received a very generous 400g bag.
Here's the science bit..
"Made using organic milk from cows with year round access to open pasture, our humanely sourced whey is gently filtered at low temperatures resulting in a high quality non denatured organic whey protein powder. Each serving is low fat, high protein and a natural source of calcium."- The Organic Protein Company
This is the purest whey on the market in the UK and tastes creamy even when mixed with just water. The only ingredient is 100% Organic Whey (Protein Concentrate 77.5%) from organic milk and it is gluten free and suitable for vegetarians. I personally love that it's additive free, grass-fed and contains no hidden sweeteners or sugars. In a market which is full of artificially sweetened whey, it's good to see a home-grown company producing such a good organic alternative to the norm. As I use whey every few days this appeals to me it means I can still enjoy my protein treats without the added sugars or sweeteners that their competitors add.
I made a delicious nutriblast adding frozen banana, blueberries, chia seeds and water. I usually use almond as I like my smoothies thick, but my smoothie came out really creamy which impressed me. What I also liked was just the taste of the fruit really came through, they can sometimes be hidden when using sweet whey protein powders.
I also made some Peanut Butter Protein Fudge which was delicious. Keep an eye out for the recipe 🙂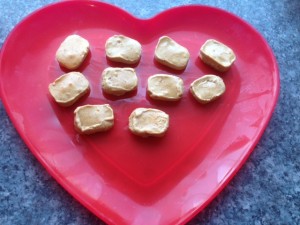 When choosing whey I always go for the chocolate, banana or quirky sounding flavours. But I'm glad to have found a natural flavoured whey which mixes well in baking and smoothies.
A 400g bag retails at £22 and you get free standard UK delivery, which is pretty cool! Here's a link to the website which also has a blog and more information of the background of the company. The Organic Protein Company the guys are also on Twitter and Instagram.