Fear has always been something that has held me back, and I know that this is the same for many of us. My mindset has always been, "I will be ready when… or "I just need to make this better… I am always questioning myself and whether the work that I put out is good enough. Perfectionism definitely holds me back, but going forward I have a feeling that this will change.
I was kindly sent a copy of Stop Talking, Start Doing by entrepreneurs Shaa Wasmund and Richard Newton. I hadn't come across Shaa's work before this, but I soon followed her on Instagram and found her content so inspiring. Stop Talking, Start Doing: A Kick in the Pants in Six Parts, is a motivational guide designed to combat imposter syndrome and doubt in order to reach your full potential.
How to Get from Talking to Doing
The guide takes you through the six important steps.
Tick tock
The itch
Fear and regret
Start
The art of decision-making
Action
Procrastination is covered at the start, and there is a call for action to take a test over on Shaa's website to pinpoint what things are stealing your time and distracting you from doing. My results were phone addiction, which was very accurate. I don't watch much TV, but I can easily lose hours of my day scrolling through social media.
Section 1, tick tock, is a simple guide to encourage you to take that baby step, and gives the important reminder that everything is accessible, especially online. You only have to look at the amount of online courses available, and we are so lucky to have those resources available.
On the flip side, I feel like there is so much white nose online/on social media that we get trapped in comparison, so we feel like we need to keep chasing or achieving more. This is why I love that Maslow's Hierarchy of Needs is covered in section two (the itch). This encourages you to prioritise your basic needs first, before money, power and status. This is refreshing amongst the white nose on social media of money should be motivation or how many followers you have.
Section 4, fear and regret, is the one that stood out for me. Anxiety in everyday life holds me back. I always feel like I have to be prepared for what might happen, and sometimes I feel like I am always in fight or flight mode when starting a new task. This then stops me from moving forward because imposter syndrome kicks in, then fear of not doing well enough. It is something that I am working on, but it is definitely a work in progress.
There is a journal prompt in this section where you are asked to write down three things that you regret not having done, then reflect on what stopped you from doing these things, how different could your life be if you had done them, and what were the consequences of allowing fear to rule the day. It is also a reminder that we can't turn back time, so it's important to do these things in life.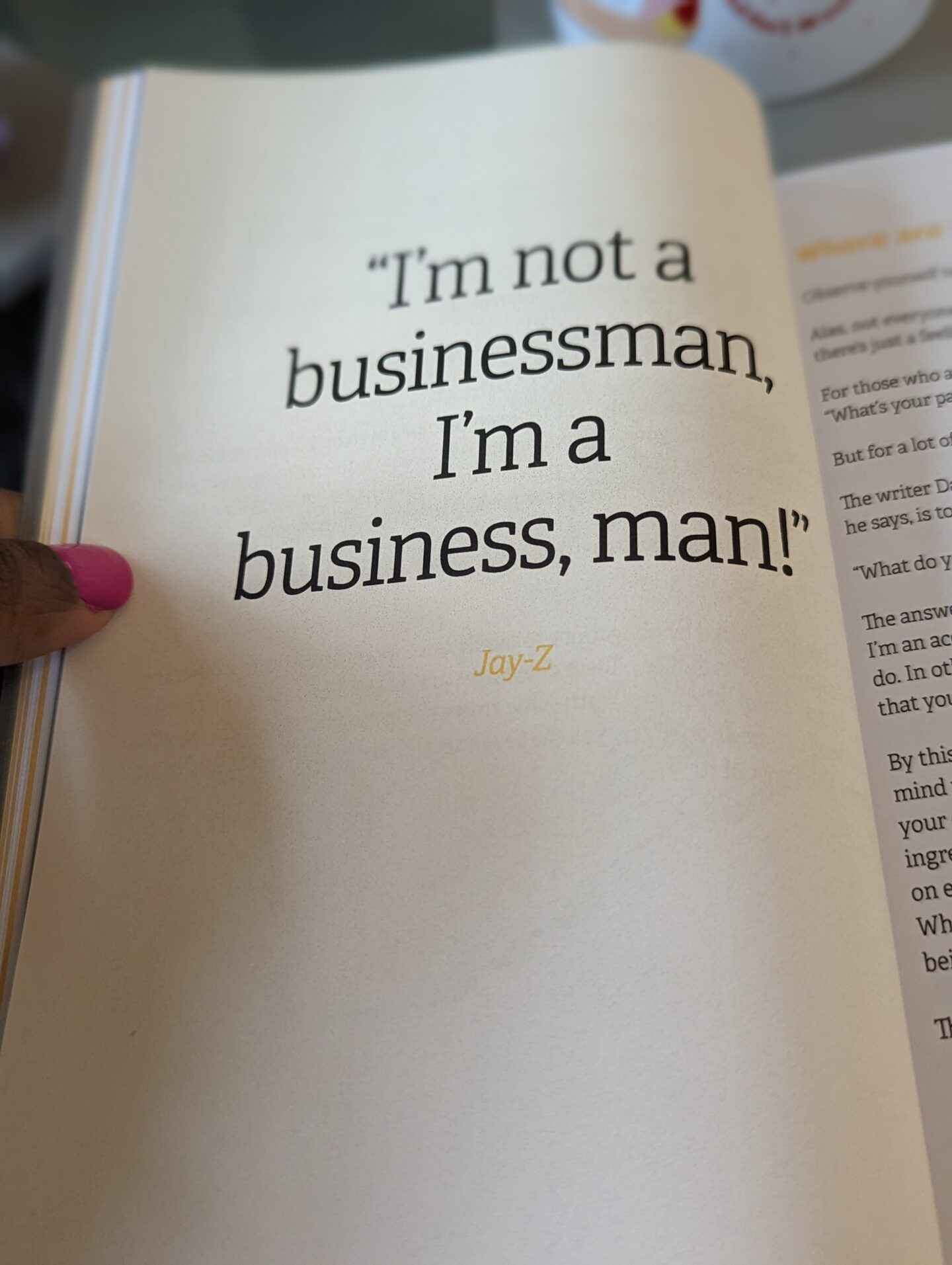 There are various quotes throughout the book, including some really powerful motivational ones, so even once you have finished the book you can still use it for daily motivation by flicking through the quotes. I have been inspired to use them as part of my morning affirmations.
Towards the end of the book you are given steps for goal setting and putting your plan in action. By this point you will be ready to move ahead, thanks to the tools in the earlier sections.
What I loved about Stop Talking, Start Doing, is that it doesn't complicate life. It has helpful tools that you can use straight away from the start of your journey.