I was recently invited by Bulk Powders to take part in their 'Cook It Your Way' campaign. I was sent a hamper with pure whey protein in banana, ultra fine Scottish oats and egg whites.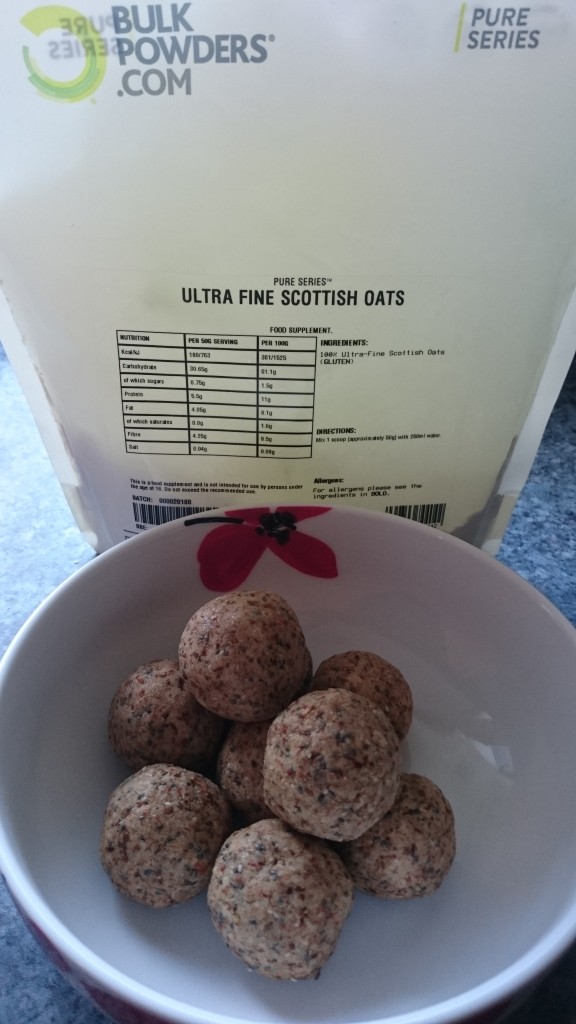 I decided to use the ingredients (minus the egg whites to make Peanut Butter Energy Balls. It's such a simple recipe and a great sweet treat packed with protein, fibre and slow-releasing energy from the Oats.
RECIPE
2 Scoops Bulk Powders Ultra Fine Scottish Oats
25g Bulk Powders Banana Pure Whey
1/2 Cup Bulk Powders Peanut Butter
1/4 Cup Agave Nectar
1 Tbsp Chia Seeds
30g Flaxseed (I used Linwoods Flaxseed & Goji)
1. Add all the ingredients to a mixing bowl and stir until combined. Add a little water to loosen the mixture.
2. Leave to set for an hour in the fridge.
3. Roll in to golf balls (I made 9 balls)
Macros (Per Ball)
Kcals 165, Protein 8g, Carbs 17g, Fat 7.6g