It's that time of year where Christmas parties and school Christmas fairs are in full swing. I always love bringing home bakes where possible, especially when I know that it will go down well.
The Groovy Food Company have teamed up with mum and foodie, Alesha Dixon to collaborate on various recipes inspired by Alesha's Jamaican roots. With this in mind, I was sent the ingredients to create Alesha's gingerbread cake recipe at home. The recipe uses coconut flour so is perfect for anyone who avoids gluten or wheat! It also uses store cupboard staples which are easy to source, and is a straightforward recipe, which kids would enjoy helping out with.
85g The Groovy Food Company Virgin Coconut Oil, plus extra for greasing
4 tbsp The Groovy Food Company Dark Agave Syrup
3 tbsp blackstrap molasses
175g ground almonds
50g The Groovy Food Company Coconut Flour
1/2 tsp bicarbonate of soda
1 tsp ground allspice
1 1/2 tbsp ground ginger
2 tsp ground cinnamon
100g full-fat coconut milk
3 medium eggs, separated
1 tsp vanilla extract
FOR THE CARAMEL
75g The Groovy Food Company Coconut sugar
100g full-fat coconut milk
few drops vanilla extract
Method
1. Grease and line a 2lb loaf tin with baking parchment. Heat oven to 170C/150C fan/gas 3.
2.Tip the coconut oil, agave and molasses into a saucepan, set over a low heat and gently warm to melt, stirring. Set aside to cool a little. Meanwhile sift the almonds, coconut flour, bicarb, spices and pinch salt into a large bowl.
3. Whisk the coconut milk, egg yolks and vanilla into the pan of cooled syrup, then pour the contents of the pan into the dry ingredients and stir well. In a clean bowl with clean beaters, whisk up the egg whites to peaks. Beat ⅓  of the egg whites into the cake mixture, then gently fold in the rest.
4. Spoon into the prepared tin and bake for 45-50 mins, until a skewer inserted comes out clean. Leave to cool in the tin for 10 mins, then transfer to a wire rack to cool completely.
5. To make the caramel sauce measure the coconut sugar and 50ml water into a pan and heat until bubbling. Cook for 2-3 mins then add coconut milk and vanilaa. Turn down the heat and simmer for 15 mins stirring until thickened, being careful not to let it burn. Leave to cool and thicken a little more then drizzle over the cooled cake.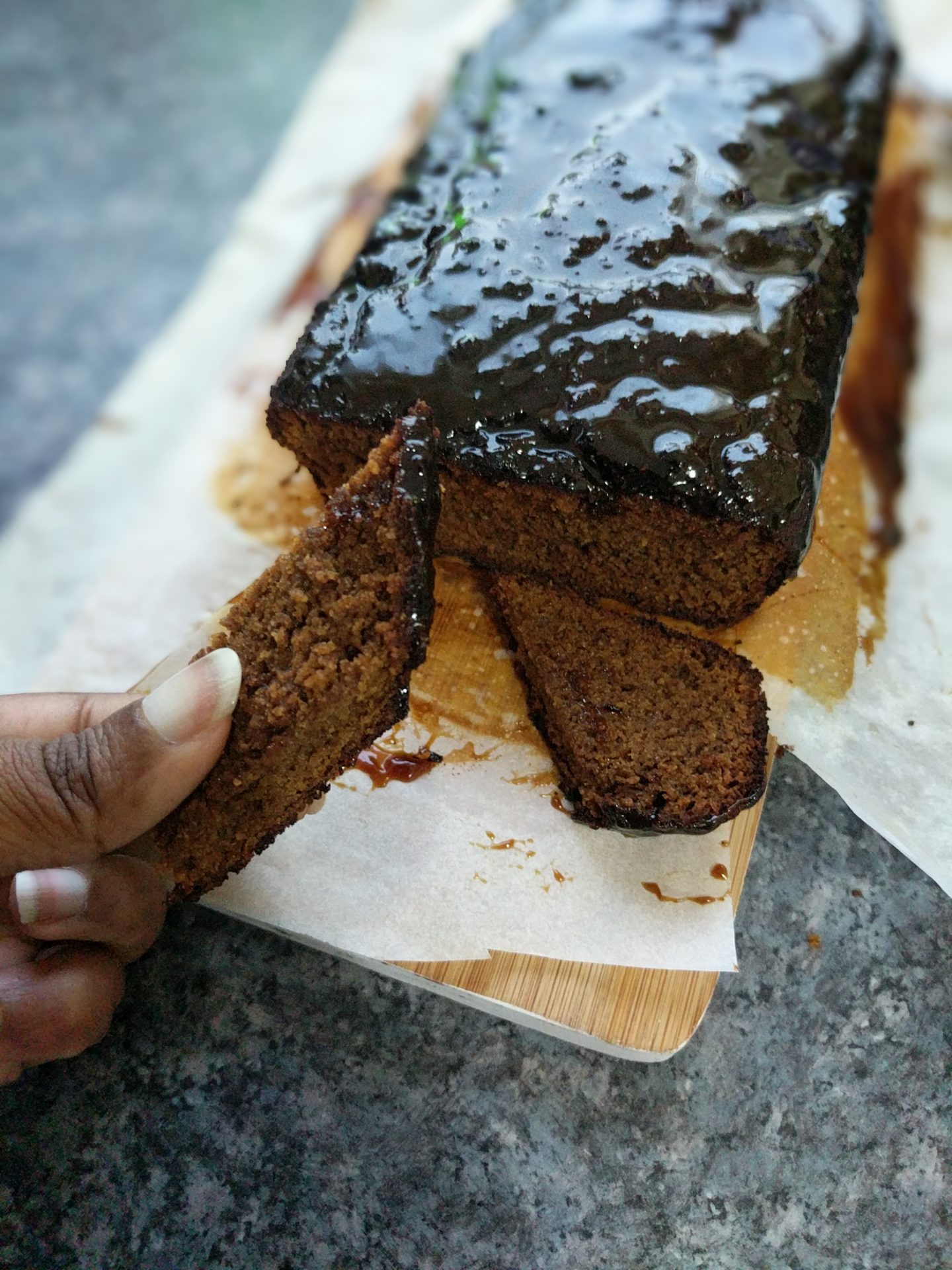 The cake is an absolute dream, spongy muffin like texture, strong ginger flavour and an amazing sweet glaze. It also freezes well, meaning you can defrost slices as and when you need a cake break or for putting into lunchboxes.
Let me know if you try it!
*Post contains PR samples and is a collab.