I was recently asked by Organix to make and share their healthy love heart cookies to my blog. I had a very excited little girl this morning when I told her we would be doing some baking. It's fun and educational to get your little ones involved in the kitchen and I love cooking up healthy snacks for us all to enjoy. The recipe for these cookies are super easy.
Due to Amber's special dietary requirements I have substituted the ground almonds for wholemeal flour and I have used agave nectar instead of maple syrup.
Makes approx. 35 biscuits depending on the size of the cutter
Suitable for freezing
Suitable from 10 months
Ingredients
• 300g ground almonds
• 50g dried sour cherries
• 100g coconut oil (or butter if you prefer and happy to include dairy)
• 60mls maple syrup
• 1 tsp vanilla extract
Method
Preheat oven to 180°C, 160°C fan, Gas Mark 6, then combine the ground almonds and sour cherries in a large bowl.
Gently melt the coconut oil over a low heat in a pan. Remove from the heat and add the maple syrup and vanilla extract, stirring together. Then pour this liquid over the ground almonds and stir thoroughly to form a soft dough.
Divide the dough into two balls. Place each ball onto a sheet of parchment paper, press down, then place a second piece of parchment over the top. Roll the dough out between the sheets of parchment to about 5mm thickness. Place onto a flat baking tray, then pop into the freezer for 10 minutes to firm up. (N.B. The parchment paper prevents the dough sticking to the rolling pin and makes this super easy. The freezer makes the dough firmer and easier to cut. Don't miss these steps!)
Remove from the freezer and use heart shaped cutters to cut out biscuits. Use a spatula to carefully lift the biscuits onto another lined baking sheet. Bake for 5-7 minutes until golden. Allow to cool for a couple of minutes on the tray, then transfer to a cooling rack.
Roll up the left over dough and repeat the process, rolling out between sheets of parchment and freezing for 10 minutes before cutting out. Repeat until all the dough is used up.
Biscuits can be tied with ribbon or placed in a beautiful tin to give to a loved one. Or little ones can simply give them out to their 'bestest friends'.
If dairy isn't a problem butter can be used instead. If nuts are a problem you can replace the ground almonds with plain flour or gluten free flour. As flour is drier than almonds you may need a little extra oil to bring the dough together.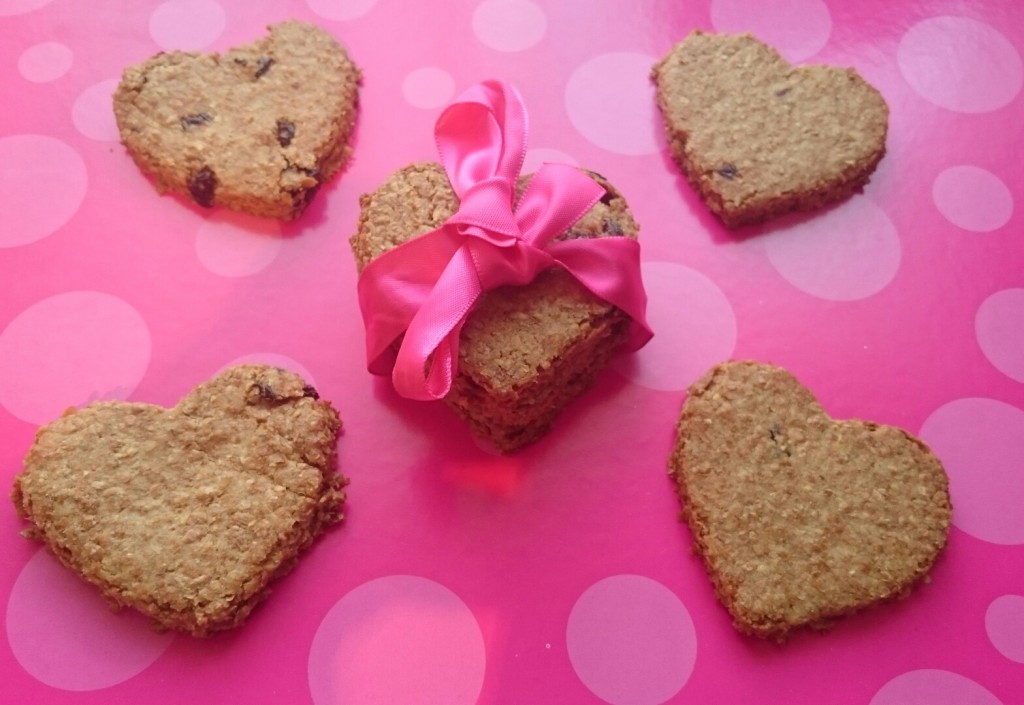 These cookies have gone down very well with Amber (and mum and dad too!)
For more No Junk recipes, baby and toddler advice and to download your free copy of the new Organix Engineering Taste Report, please visit www.organix.com. You can share your response to the report, recipes, experiences and photos with other parents at #OrganixTaste.