What is your ultimate favourite snack? Mine is popcorn, especially when it's pimped and a little different and Drew and I are always thinking of random popcorn flavours to create. Anything with cinnamon or chocolate based is usually a winner, however I find that supermarket shelves are usually limited to toffee, cinema sweet or salty.
So I was over the moon when I was  recently sent a package from Popcorn Shed, which is an award-winning gourmet popcorn brand. They are a UK-based family company, started by two cousins with the aim of creating gourmet popcorn using natural ingredients, the range is also gluten-free, they also do a delicious chocolate flavoured popcorn which I had previously heard about and I couldn't wait to try it and also create a hot chocolate topped with whipped cream and popcorn. If you haven't tried this method then you are seriously missing out!
They create a range of sweet and savoury popcorn with a twist. The twist being that texture is added in each bag as Drew discovered when he was munching on the pecan pie flavour and came across an actual pecan. The popcorn comes packaged in a 'popcorn shed' carton (80g), which looks great if you were giving it as a gift. I absolutely loved the range, especially the salted caramel, which is generally one of my favourite flavours of any snack. I love the combination of sweet/salty
Other flavours which I was sent to try was: Berry-licious, Butterly Nuts, Say Cheese and Sweet Cheesus. The berry-licious was very popular with us, I expected it to be quite sour as raspberries can be, but the chocolate combination works really well and the flavours just work perfectly.
Butterly Nuts was by far my favourite, I love peanut butter and I loved the peanuts at the bottom of the bag, this is honestly the best flavour of popcorn I have ever tried, perfect for a peanut butter fan like myself.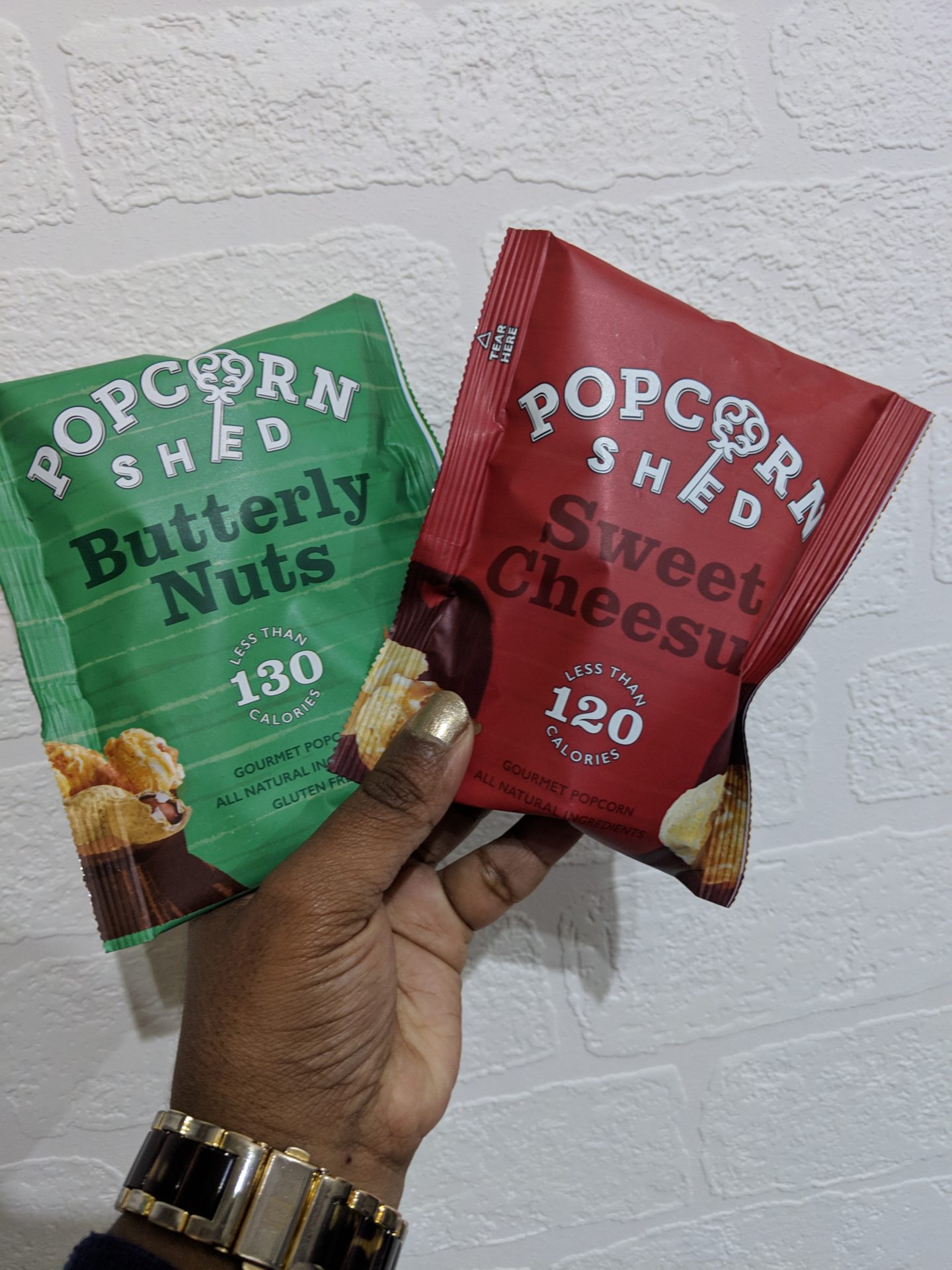 The savoury cheese flavours are really interesting, I liked the sweet cheesus flavour but you only need a small amount otherwise I could imagine that it would be quite sickly. It didn't have the same wow effect as the sweeter flavours and was probably my least favourite flavour.
Popcorn Shed is a great idea, I love the range of flavours, the packaging and the fact that it's a UK-based brand and I can't wait to see what flavours they create next.
The range is available from UK stockists including, Ocado, Selfridges, Harrods and Amazon.
International stockists including, La Grande Epicerie Paris, Marshalls and Homesense.
The online shop includes snack pack bundles, popcorn filled jars and popcorn subscriptions.
*Contains PR samples