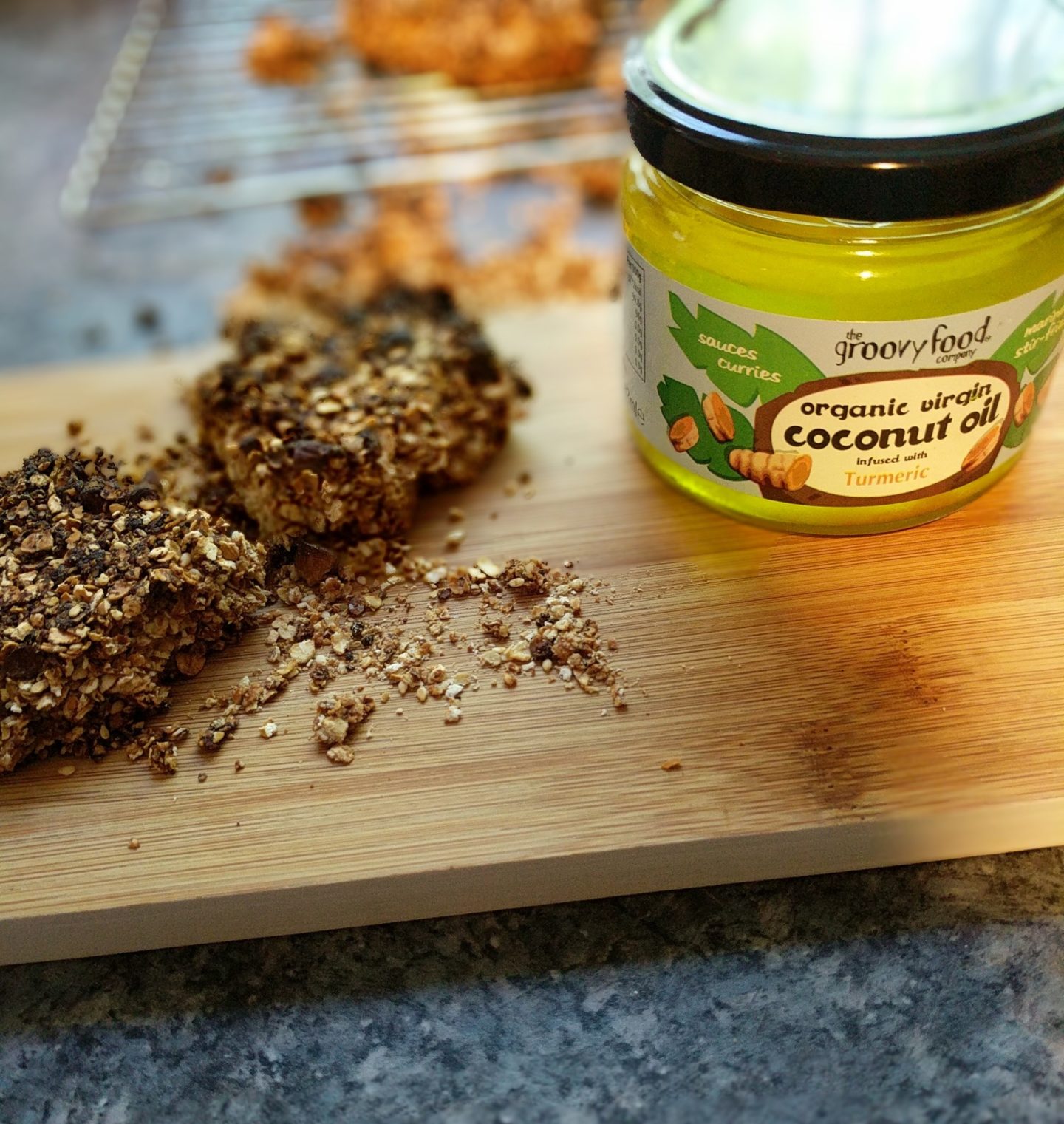 Today is the first day back at school for Amber and as you know I love nothing more than having healthy snacks prepared for after school. These snacks are usually oat based and ones which can also be used as an alternative to cereal or toast in the morning.
So when The Groovy Food Company contacted me about creating their tahini & turmeric granola bar recipe using their new organic virgin coconut oil infused with turmeric for my blog I obviously said yes. As a family we love granola bars but we try and stay clear of shop-bought ones as they can be high in calories and sugar and don't always taste that great. What I love about homemade granola bars is that they can easily be made using store cupboard ingredients which you usually already have
Ingredients
400g gluten-free oats
100ml The Groovy Food Company Dark Agave Nectar
3 Tbsp tahini
2 Tbsp The Groovy Food Company Organic Virgin Coconut Oil Infused with Turmeric
1 Tsp vanilla extract
1/2 Tsp cinnamon
1/4 cardamom
1/4 Tsp ground ginger
1/4 Tsp coriander
1/4 Tsp salt
1/8 Tsp black pepper
6 dates, pitted and chopped
100g pistachios, shelled and chopped
2 Tbsp sesame seeds
Method:
Preheat oven to 180. Spread oats evenly on a large baking sheet and place in the oven for 8 minutes, until lightly toasted. Set aside to cool.
Combine agave nectar, tahini and turmeric infused coconut oil in a small saucepan. Cook over medium heat for 5 minutes. Remove from heat, add vanilla extract, cinnamon, cardamom, ginger, coriander, salt and black pepper and mix well. Add dates and set aside to cool slightly.
Combine toasted oats, pistachios and sesame seeds in a large bowl. Add agave and tahini mixture and mix well to ensure the oats are well coated.
Grease the bottom of an 8×8 inch baking dish and line well with parchment paper. Transfer oat mixture to the lined dish and flatten using your hands.
Bake for 25 minutes and leave to cool for 15 minutes before transferring out to a wire rack. Allow a further 10 minutes before cutting.
As well as this recipe, the coconut oil works perfectly in savoury dishes like curries and stirfrys and contains no trans fatty acids.
The coconut oil is available exclusively in Waitrose RRP £4.99 (283ml)