As I am a keen cook I am always looking for new seasonings and flavours to make meals exciting and so for the last few weeks I have been pretty much exclusively using a new seasoning by a company called Coeur de Xocolat which means 'the heart of chocolate. The Yorkshire-based company was created by David Greenwood-Haigh, who has already created premium handmade jams and chocolate bars. As well running events such as Xocolat Hen parties, children's parties and team building.
David sent me a package of their Spice Fusions range which included Smoked Paprika, Ras-el-Hanout, Steak and Jerk. The Spice Fusions range all contain cocoa in their ingredients, giving a bit of a twist to regular seasonings.
I must add that just the smell is incredible and the jars look great and are well labelled.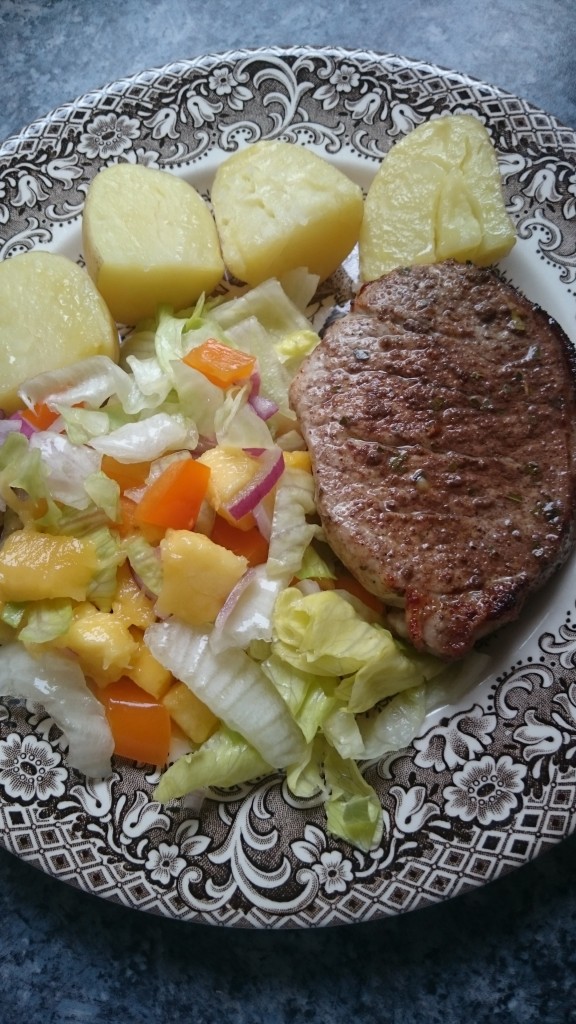 Now, let's talk food. We first tried the Jerk with Chocolate spice. I love Jerk and this didn't disappoint. I marinated the pork loin about 15 minutes before and then grilled it for 10 minutes and it came out so juicy and absorbed the flavour well. I scored the loin while marinating to ensure the spice would really take to the meat. The jerk spice itself is smokey with just the right amount of kick. 9/10
Xocolat Jerk Pork With Mango And Lime Salad
With the Ras-el-Hanout I made Lamb Tagine. This is a special recipe for me as I've used all Aldi ingredients to show you that you can put together a really healthy and affordable family meal very easily. While the tagine was bubbling away in the oven for an hour my family kept commenting on how great the smell was. This spice is literally one of the best I've ever used, the chocolate just works so well. I made a big batch of the tagine and two days later I had leftovers for lunch, as the flavours had a few more days to mature the taste was absolutely incredible. This spice literally tastes as good as it smells. 10/10
The steak spice was Drew's favourite (typical man) we used some frying steak and marinated it for a few hours in the fridge. This was served with homemade chips made with new potatoes. Another good flavour which worked well with the meat. 9/10
The Smoked Paprika spice has been the most versatile for me. I have used it on my Sunday roast by marinating a whole chicken with the spice and a little rapeseed oil. It honestly makes the skin so crispy! I have also used it in vegetables. The photo above is kale which I have cooked in 1 tsp Paprika and coconut oil. 10/10
The price comes in at £4 and the jars are 70-90g. Usually I would spend around £3 for spices, so this fits in to my price range and overall is affordable when you consider the quality of the product.
With their hand already in so many pies I am I am excited to see what's next on their list.
For more information visit:
http://www.xocolatshop.com/ or http://www.coeurdexocolat.co.uk
*Items provided in return for an honest review.