AD Gifted
I have always been an advocate of food for medicine. For example if I'm feeling run down I'll always look at what I can add to my diet to boost my energy levels before taking a pill. This has been the same for managing my endometriosis pain, one thing which has always worked well for me is adding anti-inflammatory foods to my diet, turmeric in particular.
What is turmeric?
Turmeric is part of the ginger family and  a common spice and ingredient in curry powder. Curcumin is a major component of turmeric, and gives turmeric its yellow colour. It is also thought to have some amazing health benefits and its popularity has seen it used to manage many ailments such as arthritis, and heart conditions. I can only speak from my own experience, but it has so beneficial for me in managing my own pain especially during my period.
I have been using Nature Squared turmeric blend which has made my bi-weekly turmeric latte much easier to make as I only need to use one teaspoon rather than digging through my spice rack for turmeric, cinnamon, ginger etc.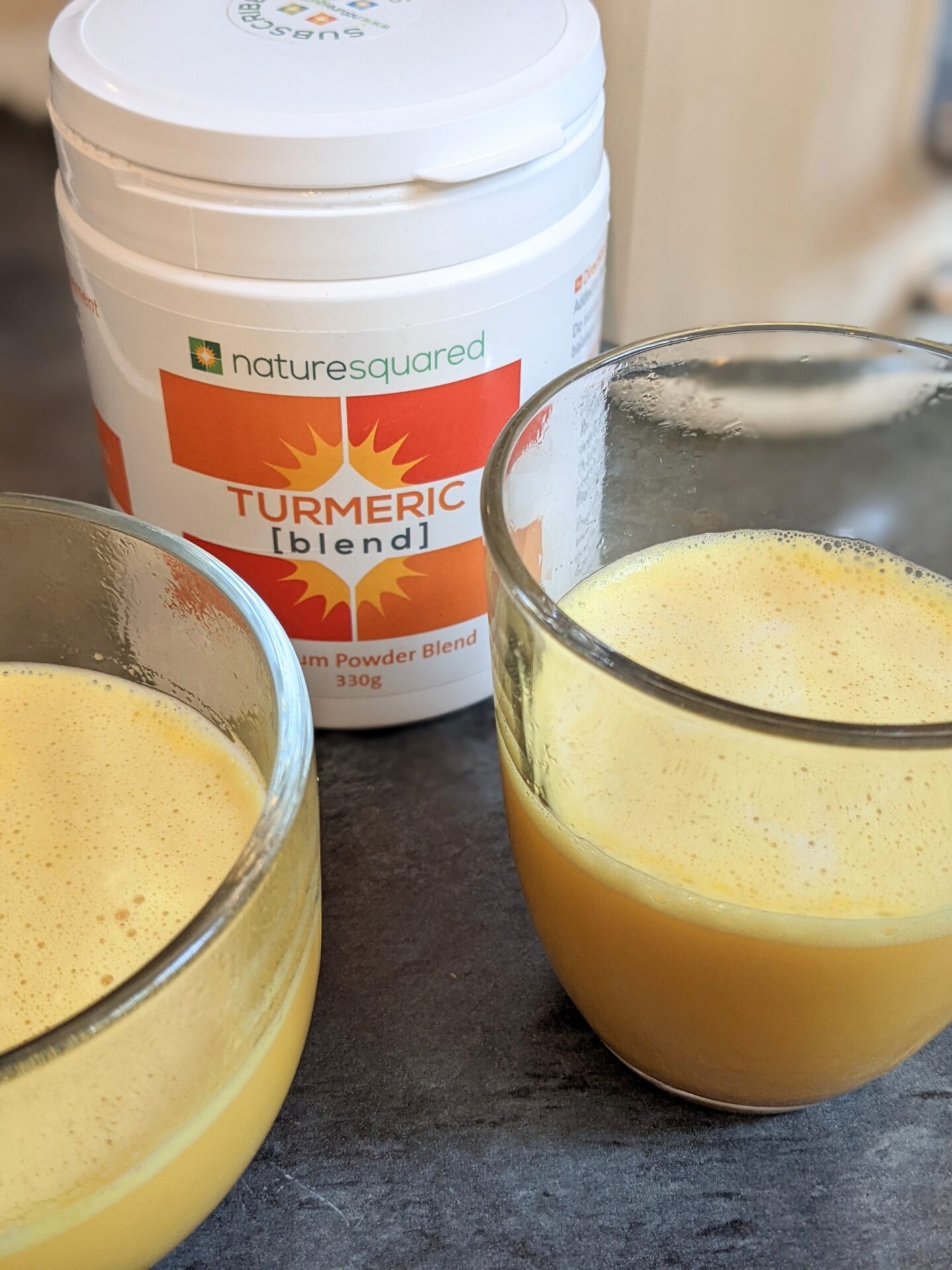 Nature Squared are a small family run business based in Sussex, England owned by husband and wife Dan and Katie. Katie is so passionate about the blend and its benefits and came across as so enthusiastic when talking to me about it.
This unique recipe uses premium organic turmeric, enriched with a 95% curcumin extract. It is blended with several specially selected ingredients, including MCT from coconut oil and organic black pepper to increase bioavailability and absorption. It is the only 100% natural brand in the UK to have been blended with MCT from coconut oil, meaning 20 times more of the curcumin is absorbed and available to be used by your body
Ingredients
Turmeric* (87%), Curcumin Extract (95% curcuminoids), MCT (Medium chain glycerides) from coconut oil in Maltodextrin (Maize) base, Cinnamon*, Green Tea Leaf*, Papaya, Ginger*, Black Pepper*
It is also vegan and gluten-free.
Taste
Turmeric powder on its own can be bitter, so the fact that the blend includes other flavours makes it a winner for me. As mentioned above, I have been making turmeric lattes with it and they taste delicious, just as good as any £4 coffee shop version.
Price £35.99 for 330g.
At first glance the price point seems high but I would easily spend this on painkillers, heat patches etc so it's a good investment for me in that aspect. As you only need to use 1-2 teaspoons, this tub will go a long way (3-4 months). You also don't need to buy the additional spices as they are already added, so this is saving you money too.
Disclaimer
Please make sure that you consult with your GP before starting any supplement, especially if you are on prescription medication.