I love nothing more than relaxing with a cup of tea and a scented candle after a long day or as part of my self care Sunday routine, so I was excited when my favourite tea brand, The Tea Makers of London, got in touch with the news that they were launching a range of Luxury tea scented candles. I very rarely come across tea scented candles in stores, so I was keen to see what these would be like and, in my opinion, you can never have enough candles.
The range includes the following candles:
I was sent a box containing travel tins of the matcha, chai and jasmine candles, and was greeted by a lovely fresh scent on unboxing the candles. The packaging looked luxurious and the candles were packed beautifully. My first thought was how they were almost too lovely to keep for myself, but then I reminded myself how important self care is and how stunning they would look in my home. I expected the jasmine candle to be my favourite as it's a scent that I love and it has been a part of my bedtime routine for years, due to jasmine's natural sleep aid benefits. It really is the most gorgeous scent. This had a beautiful refreshing and light scent with fruity notes, but it's the jasmine base notes that really came through. If you love jasmine essential oils, then you will absolutely adore this candle.
The matcha candle was the one which surprised me the most. I wasn't sure what to expect, but what I was greeted with was the cleanest and freshest scent that I have ever been introduced to in a scented candle. Cool Water is my favourite summer scent and it always makes me feel like I am on a beach somewhere. The scent of the matcha candle gave me those same feelings, it would be the perfect scent for light summer evenings with friends or alongside a novel for some sacred reading time.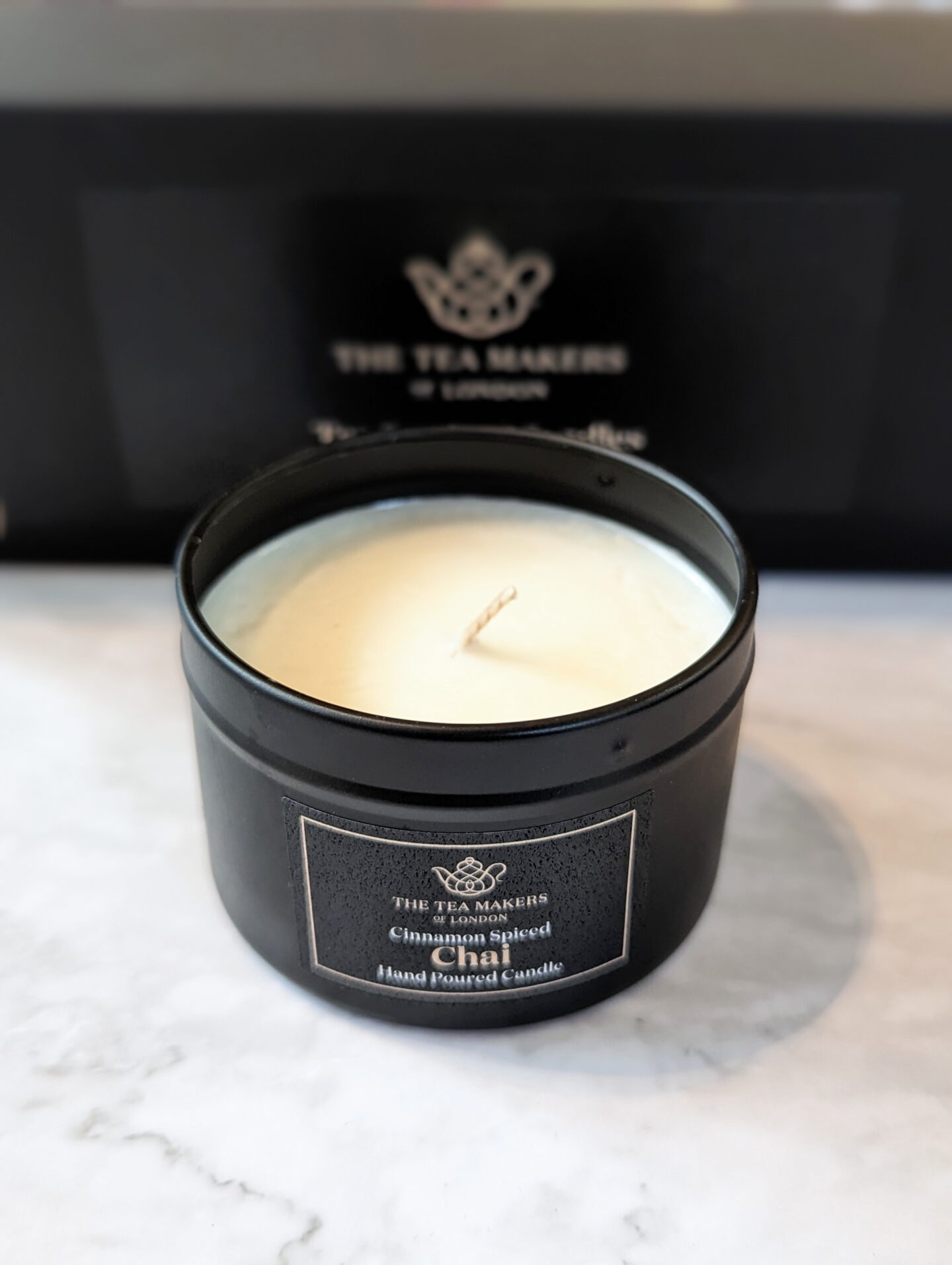 Last but not least, the chai candle, which was exactly as I expected. Comforting scents include cinnamon, clove and nutmeg with a light hint of citrus. This is the perfect autumn/winter scent for me for those hygge vibes or even just for a cosy night in. For me, this is the best candle to burn while meditating due to its warm notes. This was also my daughter's favourite candle and has suspiciously made its way to her bedside table.
All of the luxury candles are inspired by their Award-winning teas which you can view below:
The travel candle tins are 80g and all have a burning time of 18 hours, making them a lovely gift alongside their matching teas, especially the jasmine pairing. The travel tin size is also the perfect size to keep on your bedside table and the black and gold gift box packaging looks stunning.