I'm so disappointed that I haven't woken up to gorgeous sunshine like I did yesterday. But my delicious breakfast has cheered me up!
This is what I had this morning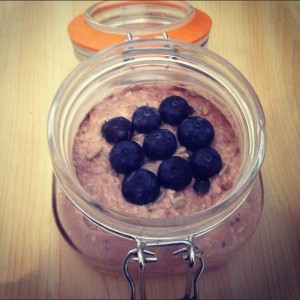 And you can find the recipe here Chocolate Protein Overnight Oats This is a great breakfast for during the week too as it's made the night before so no more rushing around in the morning trying to fit breakfast in. You can even eat it on the train/bus or at your desk. The oats release energy slowly and the added protein will keep you fuller for longer, you should find that this keeps you full all morning. I used Gluten Free Oats from Juvela but any oats will do.
It's also a great Post Workout Meal.
I hope you enjoy!
Latoya x