Today on the blog I am going to be talking about female health. Most women will know only too well the dread of the monthly period making an appearance (or aunt Flow if the word period seems gross to you). It would be great if mother nature could just send us a DM once a month saying "Hey girl, you're not preggers" but instead we have to put up with PMS, bleeding for up to a week and the expense of sanitary towels or tampons. As I also suffer from endometriosis, the time of the month and usually the week before and after can play absolute havoc on my body and mind. My routine goes from regular gym sessions and being sociable, to hiding in the house and avoiding exercise. I've never been a fan of tampons and I find that sanitary towels are so uncomfortable when you are trying to exercise. So when Modibodi contacted me about reviewing a pair of pants from their range I had to say yes.
Modibodi are an Australian underwear company which was founded by Kristy Chong back in 2011 and after the birth of her second child. Kristy saw a gap in the market for underwear which would not only protect fellow mums and women from 'runaway bladders' but also give them a more sustainable option for managing periods while feeling confident, sexy and sassy at the time. What I love about the brand and their ethos is that they don't discriminate against size, and it's great to see an underwear brand which caters for all body shapes and sizes.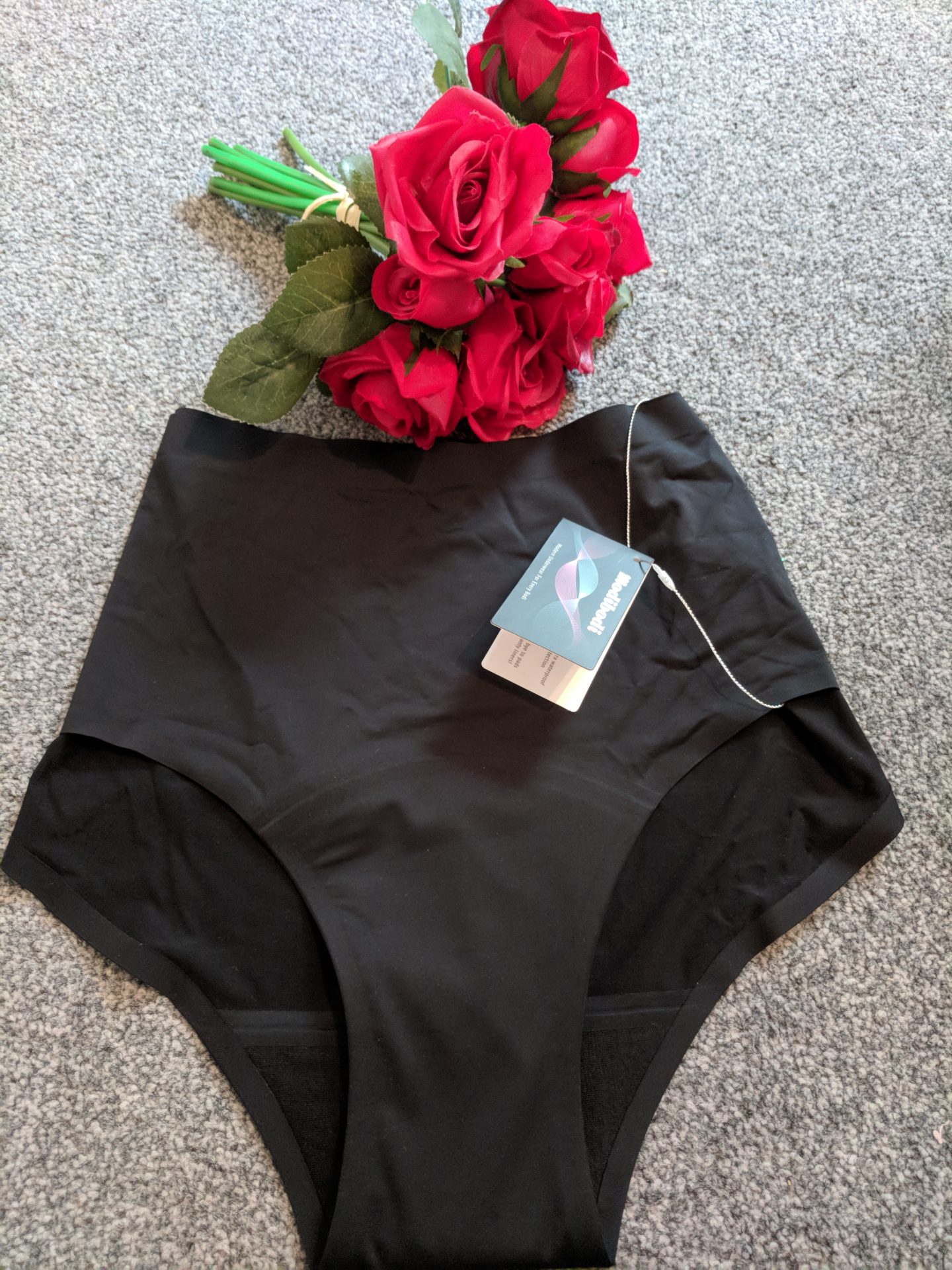 I was sent a pair of moderate-heavy absorbency pants to try in my usual dress size. You choose the absorbency which best suits you, ranging from super light to heavy-overnight.
In terms of fabric, the pant is microfibre nylon/spandex and the lining is smart merino/microfibre/polyeste. The lining is only 3mm thick, yet can hold up to 15ml or 2 tampons worth. The wicks moisture also claims to fight odour (I will give my opinion below)
Review
My first impressions of the pants was good, they just looked liked the kind of spanx pants I would buy to wear under a dress to hide lumps and bumps. The lining also looked thin and flexible which was another surprise, as I was expecting them to look thick and unattractive.
The fit was perfect, as I said before I ordered the pants in my regular dress size and they fitted perfectly and they also seemed to give my bum a bit of a lift! Win win! I wore them on day one of my period, where my flow is moderate. So to the school run and then I did a pretty sweaty home workout. The comfort level was fantastic and although you can still feel your period doing it's thing (same as with a sanitary towl really) I didn't feel like I would leak and no period odour. I washed them overnight so I could wear them to bed the following night. Normally I have to set my alarm for 4 hours after bed to change my towel (the joys of endometriosis. So even though I was wearing the pants I still wanted to set my alarm and do a check and I was pleasantly suprised at no leaks again and what was actually a really comfortable sleep.
I have also worn them on non-period days to the gym and for any mums with runaway bladders they absolutely pass the 'jumping on a trampoline' or in my case, box jump test!
Sustainability
For someone who is passionate about sustainable living, these pants are a welcome addition. I am ashamed to say that I currently use towels, even though I know that they are awful for the enviroment. I have researched moon cups as a sustainable option but I'm not sure if they are for me, but I can 100% see myself making the swap to period pants. They are a great option if you are worried about whether or not a moon cup would be comfortable but want to stop using towels or tampons.
Obviously they are an investment upfront as you would need a few pairs so that you're not constantly doing laundry, but you'll be saving money every month by not buying period products and protecting the enviroment at the same time.
Have you made any sustainable swaps?
*I was sent a pair of pants in return for an honest and unbiased review*