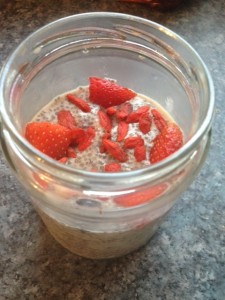 Prep: 5 Mins  Chill Time: 5 Hours
Ingredients:
1 Cup Hazelnut Milk (Can swap for Almond/Coconut)
2 Tablespoons Chia Seeds
5 Strawberries cut in to quarters
Handful frozen Blueberries
Goji Berries (Optional) for topping
Agave Nectar (1-2 Dessertspoons is usually enough)
Method
Add the milk and chia seeds to a glass jar and stir.
Add your fruit and agave nectar, close the jar and give it a good shake.
Leave for 15 mins before placing in fridge for at least 5 hours or overnight.
When ready, stir and top with fresh fruit and goji berries.