As a huge pizza and coffee lover I was over the moon when the guys at Enzo invited me to their restaurant launch.
Their Manchester restaurant which is situated on Fountain Street is their second branch after their Nantwich one. On arrival we were welcomed with prosecco and we were given a short introduction about the restaurant.
The company was inspired and named after an Italian bus driver who had a big passion for fresh ingredients, coffee and pizza. His zest for life combined with the owners love of the relaxed Australian coffee culture gave them the perfect canvas for their restaurant.
I can relate to the ethos of the company which includes putting people first, never compromising and providing the best homemade food, all the dough and sauces are made in house, and there are varied options catering for vegans, vegetarians and has gluten-free options, making it the perfect choice for a large group with different dietary requirements.
The restaurant itself has a very relaxed feel with brick walls and plenty of colour and natural light. It has an old school New York pizza restaurant feel and is spacious enough for dining with kids.
Food
Over the course of the evening we sampled a range of food from the menu starting off with a sweet treat of vegan marathon bars and brownies. I love brownies but the marathon bars were absolutely delicious! Perfect texture, not too crumbly and extremely moorish. The brownies were perfectly chocolatey, although as you know I prefer them a little bit more gooey (but I still went back for seconds).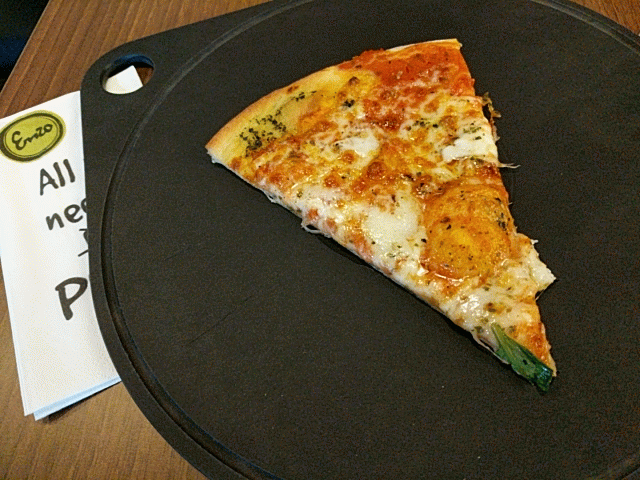 Next up was pizzas. There were way too many to photograph but in all honestly every single one that we sampled was incredible. I loved the thin but crispy bases and the focus on flavour even on the usually simple margarita which Enzo add basil oil to, this takes it to another level. I also loved the range of pizza such as the breakfast pizza and the Bolognese pizza (I might be reducing my meat intake but this was soooo good).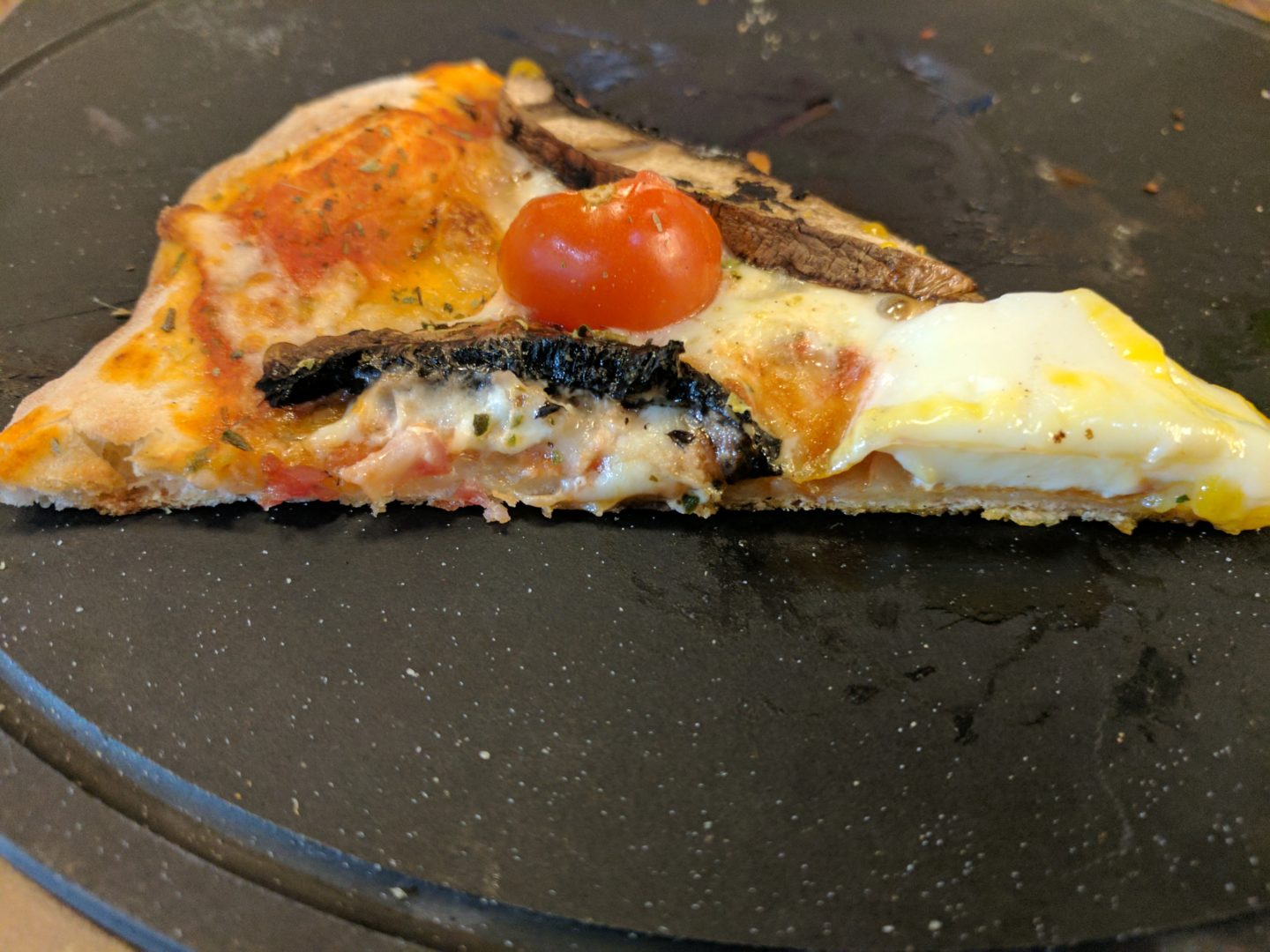 The garlic bread was also a winner. They kept it simple with fresh oregano and the dough balls were also cooked to perfection.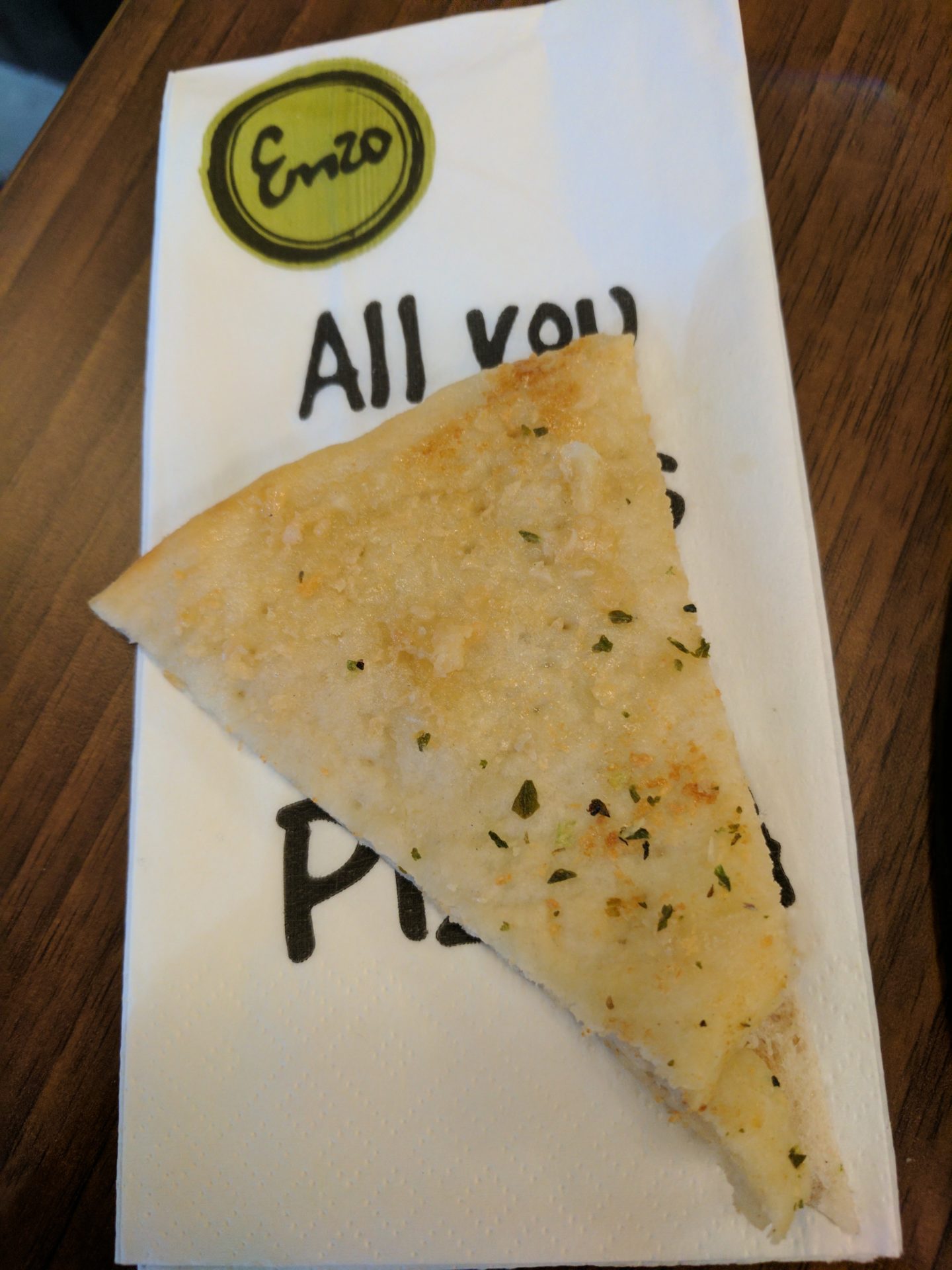 At the end of the feast we were treated to a coffee of choice from the menu. I went for my usual flat white, which definitely didn't disappoint. I'm a very fussy coffee drinker and when it comes to flat whites they always tend to make it too strong, so I was pleasantly surprised by the smooth coffee I was served and Enzo will definitely my coffee stop destination of choice from now on.
Another plus is the addition of a kids menu, which has great choices and is a healthier option than places like Pizza Hut. The owner was very keen for me to mention that they are very passionate about having a friendly and welcoming family restaurant, and offering healthy homemade dishes to kids. Kids can also eat free on a Thursday after 3pm when purchased with an adult meal.
The restaurant opens from 7.30am during the week and a bit later on the weekends, so make sure to pop in for a morning coffee before work.
*I was invited to dine as a guest. All opinions are my own.