Mother's Day is coming up later this month and if you're looking for gift inspiration then I have the perfect luxury beauty product.
Herbalife Skin is a range of formulations that claim to create softer, more youthful and healthier looking skin. The range contains a blend of Vitamin B, Vitamins C & E and Aloe Vera. What stood out for me about the range was that it has no added parabens and is free from sulphates. The range is also clinically tested and has been developed in conjuction with top Dermatologists and Ophthalmologists, and results can be seen in as little as 7 days.
I was sent 5 products from the range to try.
Polishing Citrus Cleanser RRP £19.25 (150ml)
This is designed for normal to oil skin. It's a combination of jojoba beads in a citrus-infused cleansing gel, and smells divine due to the hints of juicy orange and grapefruit. Although it's aimed at people with normal to oil skin which are prone to shine, I suffer from dry skin and found the cleanser really effective when used twice a day as directed.
Energising Herbal Toner RRP £14.60 (50ml) and Firming Eye Gel RRP £30.30 (15ml)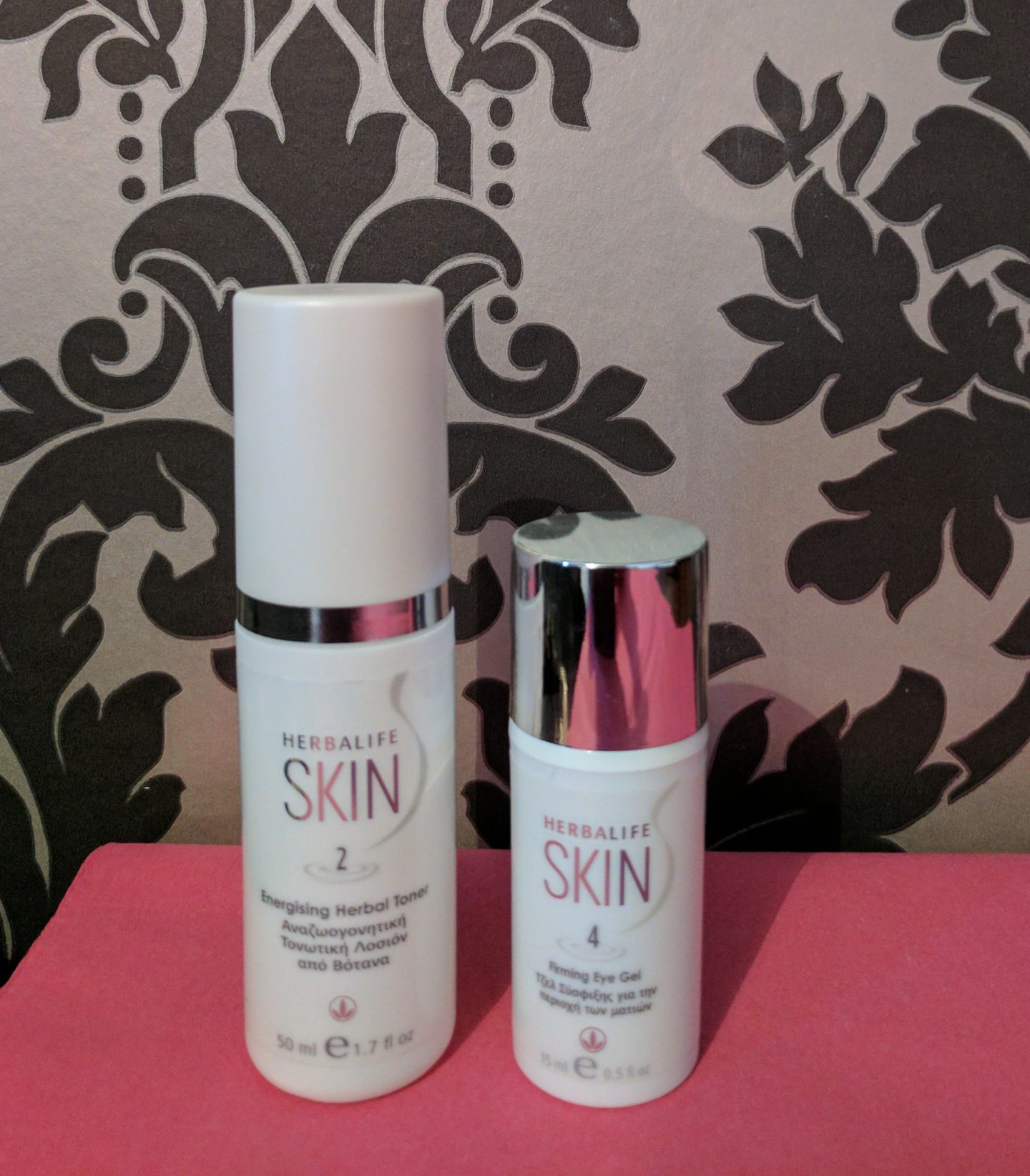 The energising herbal toner which comes in a spray bottle is designed to be used after cleansing your skin. You simply spritz on to your skin and apply with cotton wool. It gives your skin a much deeper clean. Again it has a really light and has a fresh mandarin scent.
One of my favourite products from the range is the firming eye gel, this a god-send for any sleep-deprived mums. Although my skin is in good condition I have started spotting the early appearance of fine lines and have tried at least 5 eye creams and gels in the past year, all of which weren't effective enough. This eye gel has been absolutely amazing for me and has made the area around my eyes noticeably firmer.
Daily Glow Moisturiser RRP £37.55 (50ml) and Replenishing Night Cream RRP £37.55 (50ml)
The daily glow moisturiser and replenishing night cream both come in a spray bottle, which makes application quick and easy. The moisturiser is infused with antioxidant vitamins, sunflower seed oil, nut oils and flower extracts. It absorbs really easier and gives your skin a noticeable glow, doubling the skin moisture for 8 hours.. I do suffer from extreme dryness around my nose and found that I had to apply the moisturiser to that area twice a day, however this is the case with any moisturiser I use. The rest of my face remained soft and hydrated for the duration of the day.
The replenishing night cream contains vitamins, olive fruit oil, sesame seed oil and flower extracts, and is my favourite product from the range. I have always committed to a proper night time skin routine. When choosing night creams I want something that will be absorbed quickly and which will keep my skin hydrated and nourished. This night cream ticks every box to the extent that on some occasions I can cleanse my skin in the morning and skip the daily moisturiser as my skin is still soft from the night before. This is a really great product and if I had to choose only one product from this range this would be it.
*The range was sent to me in return for an honest review.