So I am a few months into my fitness journey which includes a focus on calorie counting and sticking to set calories on a phone app. When it comes to snacks I wanted to incorporate snacks with macros that I could include into my daily diet, whilst not worrying that they would be high calorie or high fat. I also wanted snacks which would help me meet my daily protein goals. It sounds really simple but with the popularity of protein drinks and snacks I have found that many brands use cheap bulking agents or flavourings and you end up paying money for something which doesn't leave you feeling satisfied.
As I work out mainly in the mornings I wanted a protein shake which I could have post-workout which would refuel me after my workout. I love the Ufit range already, but I was keen to try out their new breakfast drinks which you can find at Sainsburys. The breakfast drinks contain the same great taste as the regular smoothies with 15g protein in each bottle and added oat fibre, vitamins and minerals. The breakfast drinks come in the popular flavours of chocolate, strawberry and vanilla. Chocolate was easily my favourite, I mean who doesn't love chocolate after a tough workout?!..I think a latte flavour would work too especially preworkout. I have tried other protein breakfast drinks before which I also enjoyed, but what I like about the Ufit range is that you can't actually taste the oats, so it feels like you are drinking a regular smoothie. I know that lots of people are put off by the breakfast drinks where you can taste the oats.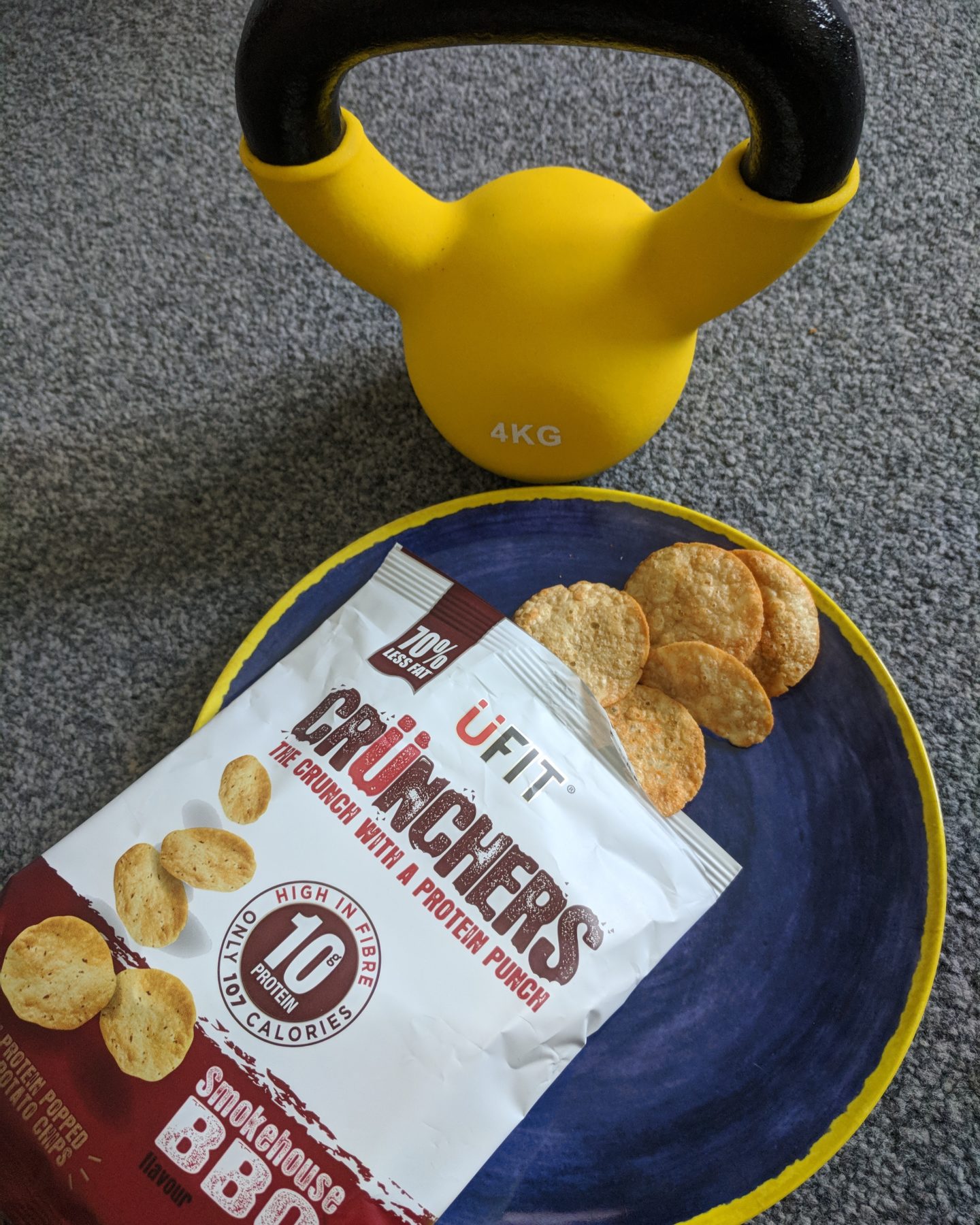 A favourite snack of mine is crisps. I'm a savoury girl but it's so hard to find tasty snacks which fit into my macros, are low fat and don't taste like cardboard. The Crunchers range fit the box. If you have heard of popchips then these are similar but with better macros. They come in Thai sweet chilli, smokehouse bbq and sour cream & onion. These contain 10g protein and around 100kcals and contain 70% less saturated fat than regular crisps. The Thai sweet chilli and smokehouse bbq flavours are also vegan friendly! To give you an example of the macros, the smokehouse bbq flavour contains 107kcals per bag, 2.6 fat ( 0.3g saturated fat), 3g fibre and 10g protein. This is great because I struggle to find crisps under 5-8g grams of fat which actually look nice. Flavour wise my favourites were Thai sweet chilli and sour cream & onion. I enjoyed the smokehouse bbq but when it comes to bbq flavours I prefer it more on the sweeter side. I'm generally not a sour cream & onion fan, so I was surprised at how nice it was and it would be my go to choice of Crunchers.
The Crunchers are available at Holland and Barrett and retail at £1.39.
*Contains PR samples