If you've followed me for a while, you'll know that Nairn's are one of my favourite snack brands. So much so that when I was pregnant a family member sent me a hamper full of Nairn's ginger biscuits to get me through my morning sickness.
I am always excited to see what new product creations they come with. Their dark chocolate oat biscuits are my current favourite snack. It was recommended by a friend who is also insulin-resistant. I usually top it with peanut butter for a healthy carbohydrate and protein- balanced snack. With this in mind, I was excited to try Nairn's latest creation, their crunchy oat bars. The oat bars come individually wrapped, making them perfect for a snack on the go or adding to your kids' lunchbox.
They are available in three flavours; Belgian chocolate chunk, honey and raisin, apple & cinnamon, and are made with gluten free wholegrain jumbo oats. They also contain 65% less sugar than the average cereal bar. I usually prioritise a healthy and balanced breakfast, but on my toddlers' nursery days I grab something quick and then make breakfast once I am back home. This can sometimes lead to unhealthy food choices, so having these oat bars made a positive impact on my busy nursery mornings and they kept my blood sugar levels steady without any spikes. If you are more sensitive to glucose spikes, then I would have a fat/protein source with these such as some nuts. I am lucky in that I didn't have to pair these to be able to tolerate them.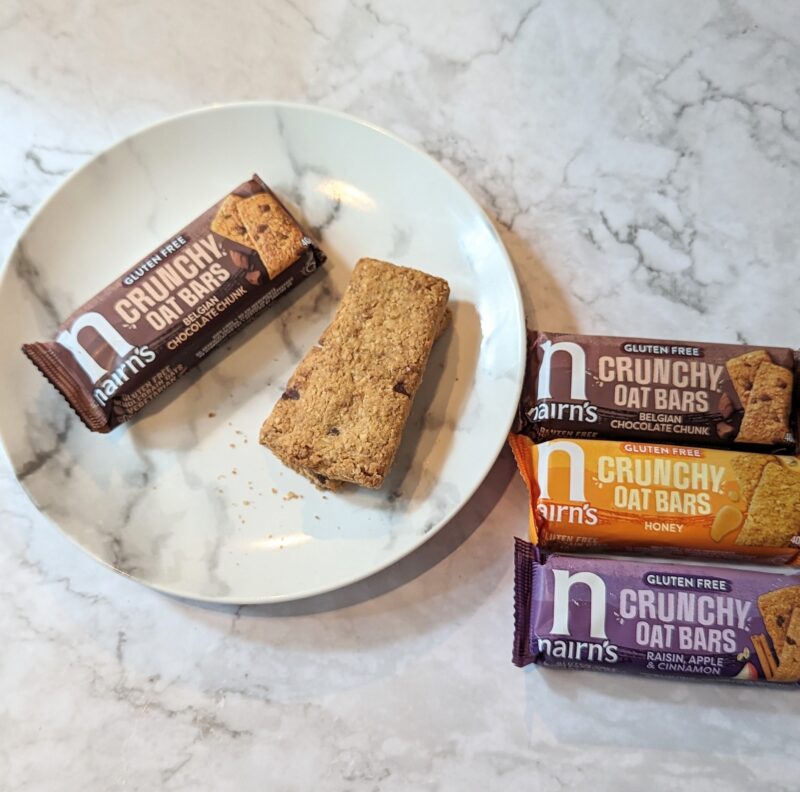 The Belgian chocolate chunk bar was delicious and my daughter's favourite too. The chocolate chunks are generously portioned within the bar and bars have the perfect amount of crunch. They feel like such a treat!
The honey bar has a subtle sweetness to it and I actually used these as a base for a dessert one evening by crumbling them and topping them with a lemon cheesecake protein pudding. It was like a lemon cheesecake and it was so good!
My favourite was the raisin, apple & cinnamon bar. This is my perfect flavour combination and they remind me of the oat & raisin cookies that I love. The flavours are well balanced and the cinnamon really comes through. These would compliment a lovely pumpkin spice latte on the morning commute to work now that the colder autumn mornings are kicking in.
Which flavour would you try first?