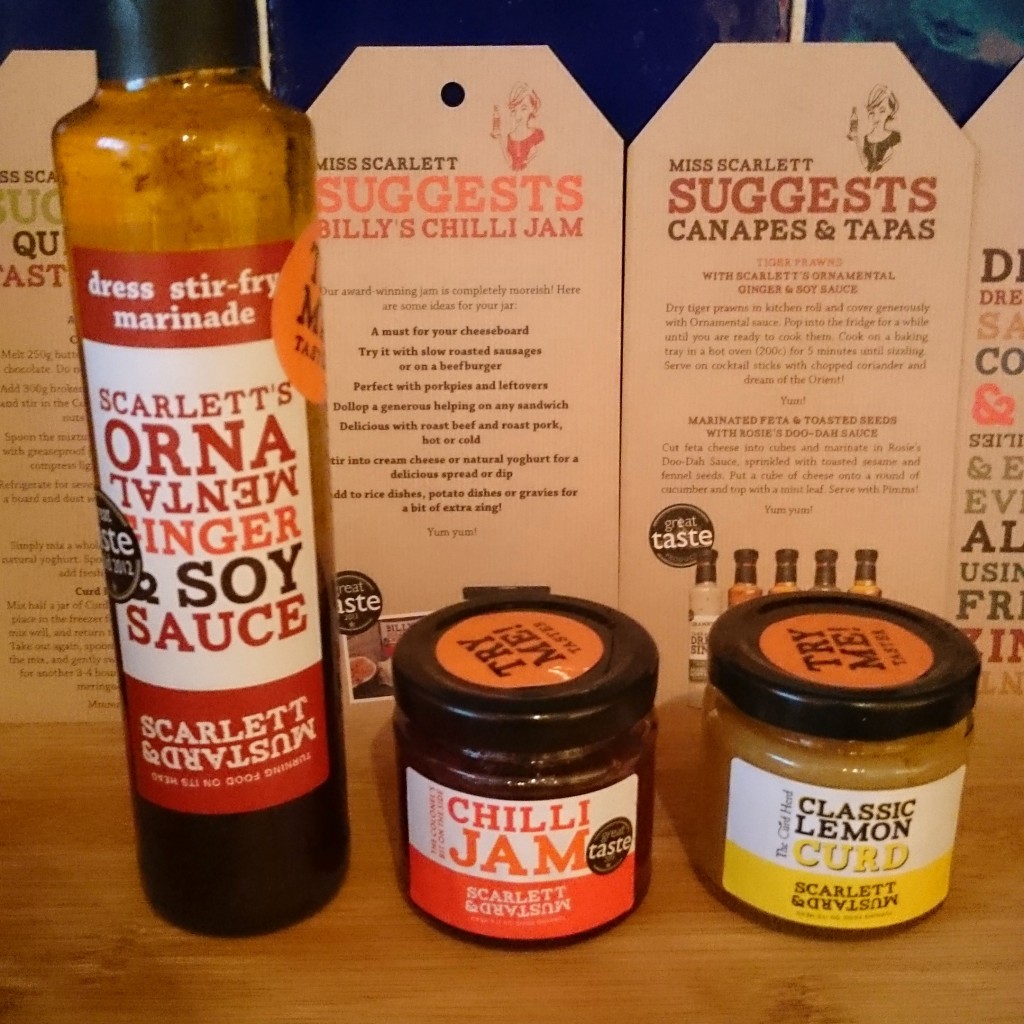 I'm always looking for new ingredients and foods to try so I was excited to receive a selection of products from Scarlett & Mustard. Scarlett & Mustard are a Suffolk-based family owned brand who pride themselves on using local ingredients and packaging from sources within a few miles of their kitchen. This ensures that food is as fresh as possible whilst keeping their food miles as low as possible. As you can see the packaging is great and some of their products are named after family members or are just plain quirky. I love the personal touch of the packaging.
The product I was most looking forward to trying was the chilli jam. And it did not disappoint. I had only tried chilli jam once before at a café and it was on my list to create some recipes with.
The chilli jam has become a staple for my brunches at home, with my favourite being a mini bagel topped with chilli jam, sautéed mushrooms and goats cheese. The jam compliments all cheeses perfectly and for this reason it is also delicious with crackers and cheese, and I've heard that it's also good on burgers. The ingredients are: red peppers, tomatoes, sugar, red wine vinegar, ginger, garlic and chillies. And this delicious relish has won a 'Great Taste gold award, not bad for only £2.99.
The next item was lemon curd. I'm actually a big fan of lemon curd and this didn't disappoint. It tasted a lot fresher and less sugary than my usual supermarket brand and I've been adding it to yogurt and fresh fruit for a sweet dessert. You only need a small portion so this jar goes a long way. This comes in at £3.50
Last and by no means least is the ginger & soy sauce. This sauce has won a converted 'Great Taste Award' and works as a marinade and as well as a dressing. I tried it for the first time last weekend to create a stir-fry and I have used it everyday since. When adding to stir-fry I just added it in the same way I would if I was using soy sauce. It gives your meal a subtle oriental flavour with the ginger coming through perfectly. I've also used the dressing to jazz up vegetables, it tastes great on broccoli. Out of the three products this was my favourite and is a bargain at £3.99.
All products are available online scarlettandmustard.co.uk/shop/
*Post contains PR samples