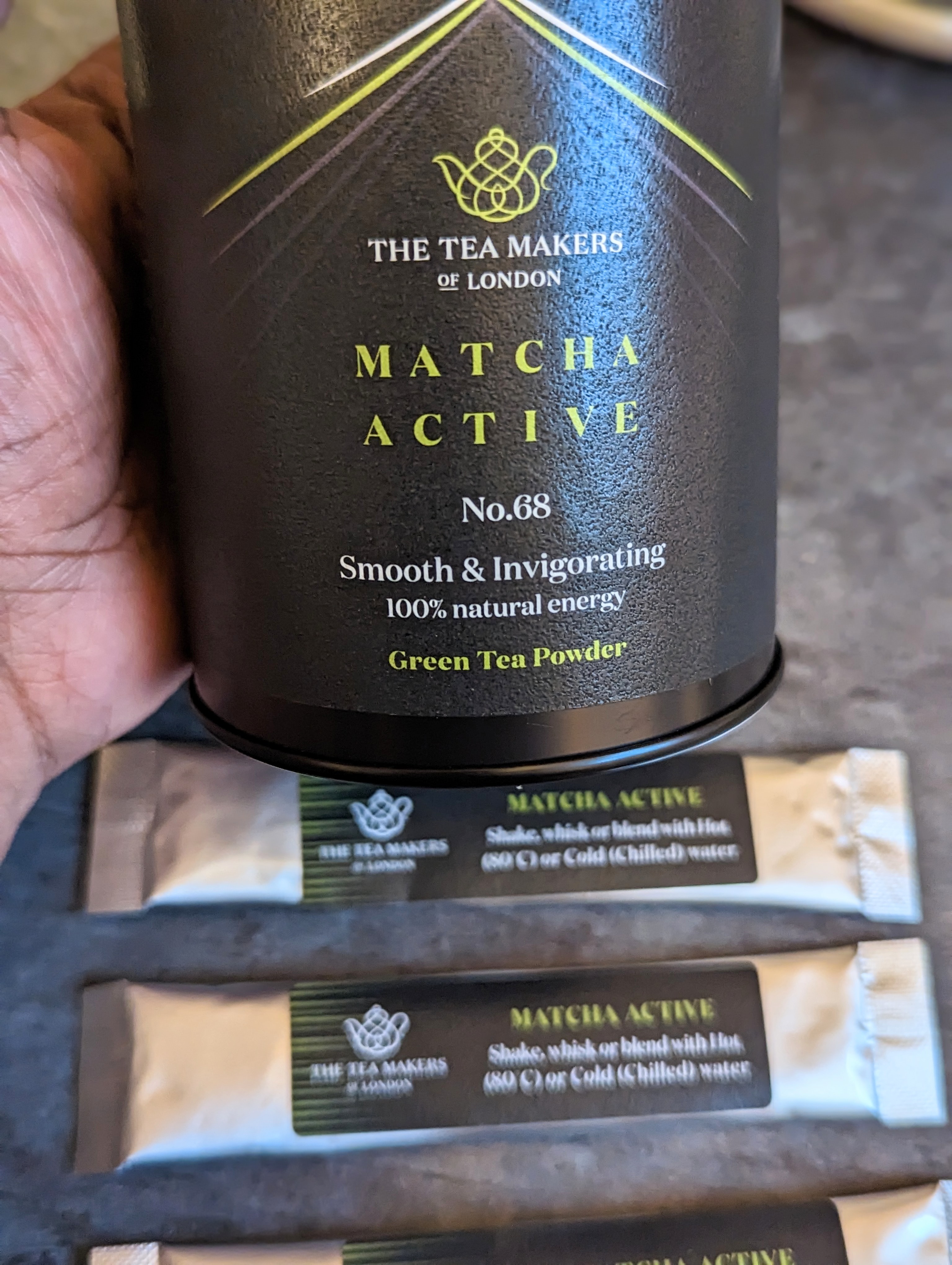 Can matcha be a good replacement for my afternoon coffee?
One of my lifestyle goals this year is to cut back on the amount of coffee that I drink in the afternoon, as it too often leads to me feeling jittery and then tired once the caffeine wears off. However, I do rely on coffee as a pre-workout for my home workouts, which I do in the afternoon, so I have been trying to find the best way to maximise my workout without relying on coffee. I have switched to natural energy drinks but they can be expensive, so I was intrigued when The Tea Makers of London got in touch about a new product that they were launching called Matcha Active. As you know, I already love matcha tea and the health benefits that come along with it, so I was excited to try it and see if it could be a reliable replacement for my afternoon coffee. A few weeks later, the parcel turned up in The Tea Makers of London gorgeous packaging. The matcha active powders come in individual sachets which are convenient for taking to the gym or travelling, so no measuring is required.
In terms of ingredients, matcha active powder is a 50/50 blend of ceremonial grade matcha and young barley leaves. It doesn't have the bitter taste which we sometimes associate with matcha, and in fact has a light sweetness which meant no additional sweetness was required (I would usually add a little honey or maple syrup to my matcha). The powder is easy to mix with hot water and if used as a pre-workout simply add the powder to your shaker bottle with 75ml of water and shake it until the lumps are gone. I find that it tastes really refreshing when cold. It works well as a pre-workout as it gives you 70mg of slow releasing caffeine to keep you focused for longer. It also has so many additional health benefits, such as lowering your risk of chronic diseases and helps to promote fat burning alongside helping you to Level Up Your Workout. It is also a great drink to keep you focused during a busy work or study day.
If you're still not convinced about switching from coffee to matcha, then this article on Matcha vs Coffee should help. It answers everything from what to expect from the taste, the health benefits and how to make matcha. The Tea Makers of London also have a great Matcha Collection, including a creamy matcha latte mix which sounds delicious! They also have the Ceremonial Grade Matcha, which I have previously tried and loved.
The matcha active is my favourite though, especially as it is so easy to take out with me and has that sweetness aspect.
What does Matcha taste like?
This is probably the most common question that I get from friends who have yet to try matcha. So this Complete Matcha Taste Guide should come in helpful. I guess the simplest way for me to describe the taste is deep and flavoursome. It does depend on the type of matcha used and how long it is brewed for. For the first year, I only consumed matcha in its coffee shop latte form, and then I got comfortable with making my own matchas at home. It is honestly so easy to brew and when made into a latte it's creamy and delicious. I am genuinely not a big fan of taking anything in tablet form, so having a matcha and knowing that it's giving me health benefits such as:
Antioxidants
Healthy heart support
Brain health support
Is a huge selling point for me and means that you don't have to buy additional supplements. As well as drinking it, many people also use matcha in baking. So, for example, making healthy energy balls, pancakes or cakes.
I am a big advocate of "What can I add to my lifestyle to make positive changes?" and I think adding a daily cup of matcha is a great start to improving your overall lifestyle.