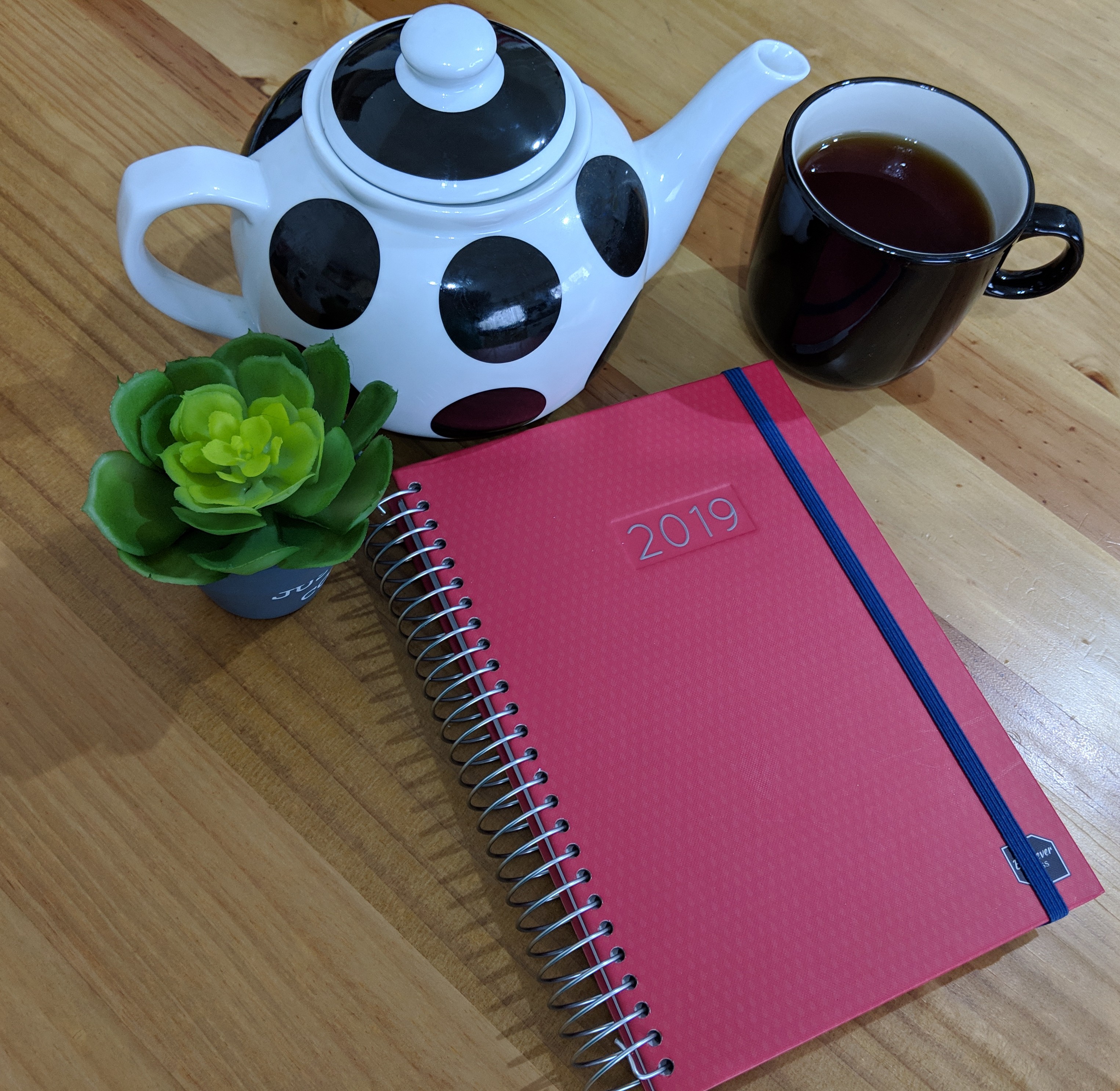 One topic which always pops up amongst myself and my fellow mum friends is how we are all just winging it and generally find balancing everything quite stressful. If you have school aged kids you'll have a million things to remember on a weekly basis. Homework, reading book days, spelling test days, after-school clubs, non-uniform days etc etc etc. Then when it gets to December you can throw Christmas jumper day, school Christmas fair and nativity costumes in to the mix. Luckily I only have one child but imagine remembering all the above when you have two or more kids.
I have always used a family calendar and about three diaries/planners at any one time, as usually one isn't big enough to write down everything for Drew, Amber and I. Going in to 2019 I wanted to be more organised, and have more structure especially with starting up my Life Coaching business. We are also moving house in the new year so I want to be able to budget everything in one easy place instead of having everything on my laptop or in various places.
Luckily I now have a planner which will cover all my needs and thensome, and which is also affordable. I was gifted the Family Life Book Diary RRP £14.99 by Boxclever Press last week and I already feel like it is changing my habits from being scatty and all over the place to having more structure and feeling less anxious about which diary I've written important information in.
First impression
The diary comes in a A5 size hardback spiral binding cover and comes wrapped in a protective cover and tissue paper. This is great especially for a gift as it saves on wrapping it yourself. The diary isn't bulky which surprised me considering the amount of features inside, so it will will fit in to even the smallest handbag.
Features
This is a 16-month calendar meaning I could start using it straight away and utilise the handy Christmas budget section. There's nothing worse than thinking you have bought presents or cards for everyone then remembering someone at the last minute. There is also a monthly budget section, great for keeping on top of bills especially in January when everyone is counting the pennies. One feature which really makes this diary stand out from the rest is the holiday planning pages. We normally have busy school holidays which includes visiting family in Scotland and reviewing theatre shows and activities, these are normally booked in months in advance and can be easy to forget about. This way I can make sure everything is scheduled in one easy place and nothing gets double booked.
Obviously being a food blogger the meal planner is one of my favourite features. In my experience using a shopping list and planning meals ahead of time can save me up to 50% on my food shopping bill as I am only buying what I need rather than mindless shopping. So if you are looking to budget and be more organised in the new year then you will love this diary. I think it will also encourage me to spend less time on my phone, as even using my phone to write down my shopping list can easily result in me quickly checking social media.
I also love the weekly planning section which will be used for anything homework and school related. Other features include:
Product features:
A5 size diary, perfect for planning on the go
Durable spiral binding and hardback cover
Week-to-view layout
Seven columns to plan for the family, work and even the pets!
16-month diary – start planning today until December 2019
288 colourful reminder stickers to help make important dates standout
Perforated shopping lists
Budget and plan easily with the monthly planning and budget pages
Manage busy, expensive times of year with the Christmas and Holiday planning pages
Transferrable address book so you can simply move it to the next diary
Transferrable plastic divider to write regular events and activities
Contrasting elastic bandeau closure
Paperwork and sticker pocket
Weekly schedule pages
Plan meals for the whole family with ease
Have a pen to hand with the integrated pen loop
UK Holiday and Bank Holiday dates included
Why use a planner/diary?
Apart from making your life easier and less stressful it means you are more likely to reach your goals. For example I do a to-do-list every day for work, housework, blogging or even just reminders to call a friend. There is such satisfation at ticking completed tasks off the list. I know that if I don't plan tasks ahead of time they might not get done. As I'm an anxious person having too much to do and losing track of it can cause me a great deal of worry. If you are new to planning, then start simple. Limit your to-do-list to three tasks which are easy to complete, once these are done you can give yourself a big pat on the back or take a task from another day to do. The feeling of knowing you can completed your tasks like a boss is great and I love the 'bonus' of knowing that I can then do more work if I want (or treat myself to a brew).
Another way to be more productive especially when working from home is to schedule in some fresh air time. A 15 minute walk works for me. Or if you are in to fitness then a 30 minute gym or home workout a few times a week. I always feel more productive after exercise.
What's your top tips for being more organised?
*Includes PR sample