A little over a week ago I finally got round to trying the popular Bosu Body Bar Didsbury . The Didsbury bar has just recently opened after huge success at their Chorlton bar.
As great as Didsbury is for bohemian and quality eateries when it comes to health food and healthy takeaway options, the choice is lacking.
Bosu specialises in protein boxes, detox juices, protein desserts and a range of healthy breakfasts, brunch and meals. The owners are all heavily involved in fitness and health and clearly know their stuff.
I ordered a regular protein box which is £6.95. You choose a protein, i.e chicken, steak, halloumi, tofu. A base, i.e spicy rice, sweet mash, bulgar wheat. And then your vegetable sides, the sides are unlimited and contain choices such as spinach, apple slaw, greens etc.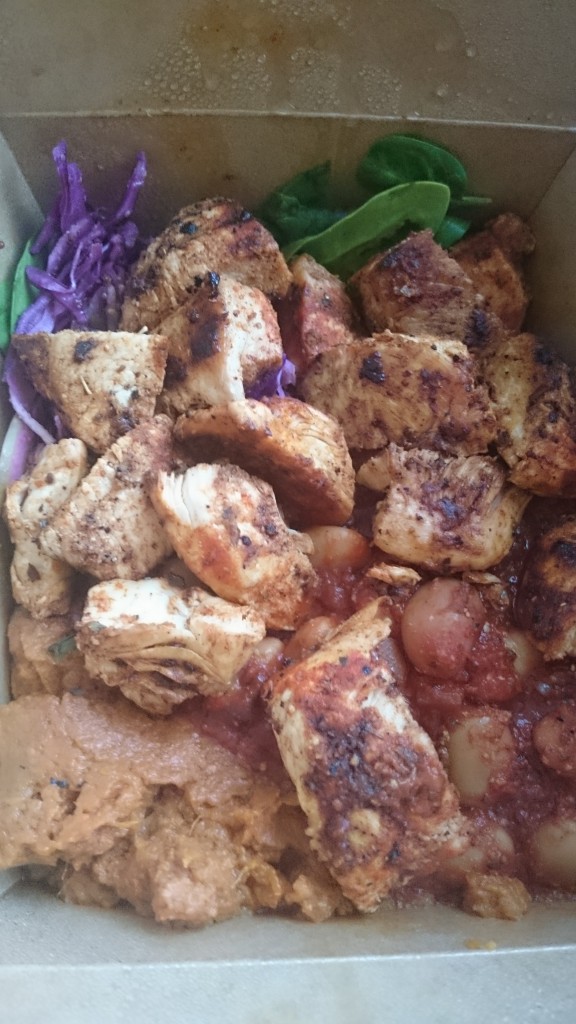 I went for chicken, sweet mash, spinach, apple slaw and clean beans. As you can see from above the portions are really generous and I couldn't actually finish the box, although my partner was happy to finish it for me. There are also a selection of homemade healthy sauces free of charge but the chicken was so well marinated that it didn't need anything added.
I chose to have my meal to take away but there is plenty of seating and a chilled out vibe.
Lastly and something which gives Bosu 10/10 for me is the fact they offer kids protein boxes too. As a mum it's frustrating when a kids menu at restaurants consists of pizza, burgers and chips. I often order a smaller portion of a healthier adult meal for Amber. So knowing there is somewhere local where she can have a healthy meal at an affordable price is fantastic.