A few weeks ago I was invited down to Jamie's Italian for a meal with Drew and Amber. We decided to book our table for Good Friday.
Jamie's Italian is located a short walk from St Ann's Square, one of my favourite parts of Manchester. Now considering I have been a fan of Jamie Oliver for 15 years and credit him for my love of cooking, I have never actually eaten in any of his restaurants, so I was very interested to see how the menu compared to his cookbooks.
Amber of course is obsessed with Jamie (my fault) and was excited too.
The menu is varied with lots of healthy options and comfort food. As it was easter weekend I wanted something light to make up for the mountain of chocolate I was consuming.
Superfood Salad
I decided on the main superfood salad with a side of chicken. This tasted as good as it looks. There were so many layers of delicious ingredients including avocado, cottage cheese and pomegranate. The chicken was spiced perfectly.
Specials Fish and Chips
Being Good Friday and all Drew stuck with tradition and went with the fish and chips from the specials menu. How good do those chips look?! I was having serious food envy and had to have a cheeky chip. Also top marks for presentation, right?
The best kids menu in the UK
Last year I was contacted by the Soil Association to take parent in their 'Out to Lunch' campaign, which asked parents to visit various restaurants and rate them on their kids menu, healthy options and generally overall. Jamie's Italian came out on top. Read more Here
I've attached a photo of the menu (and Amber's doodling). It's impressive and varied. Nothing annoys me more than a kids menu with nothing but chips, burgers and fish fingers. It's boring, tastes like crap and doesn't allow kids to experience REAL food. You'll notice that no chips are on the menu (hurrah) and instead there are potatoes and vegetables/salad to compliment the protein sources.
Picnic Box
As you can see Amber had the picnic box. Now this a genuis idea, especially since  Amber loves picnics. You get a wrap, vegetable crisps, fruit and a salad jar. This seemed a popular choice as at least 4 other kids in the restaurant chose the same meal.
Molton Chocolate Praline Pudding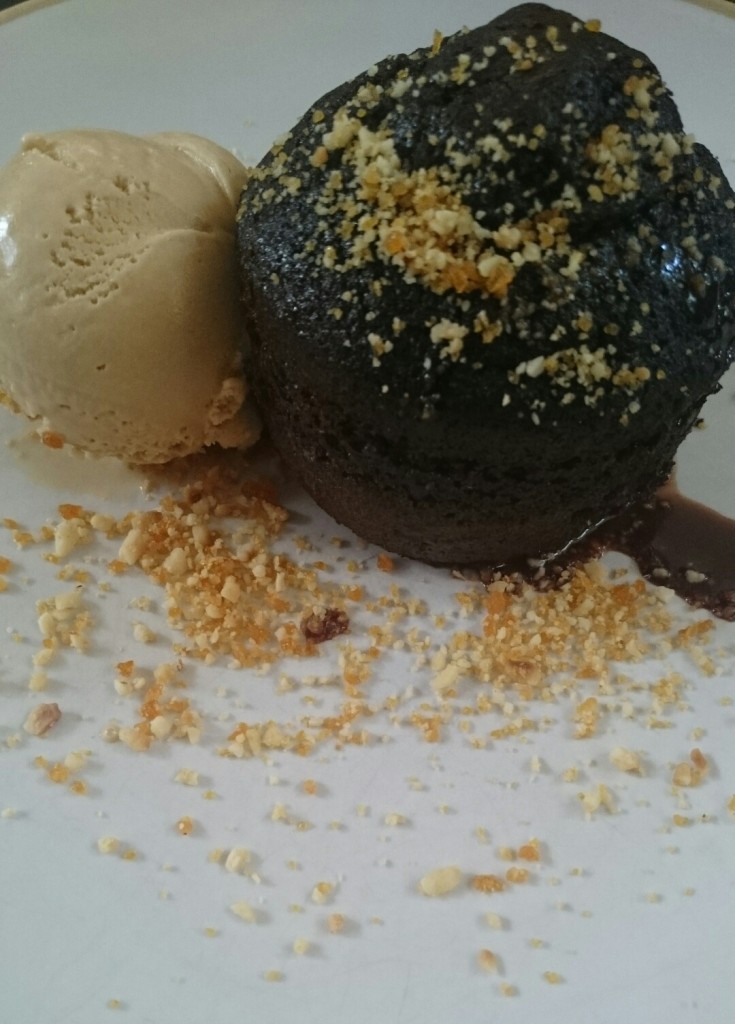 Kids Chocolate Brownie
All the desserts were amazing, the Orange Blossom Polenta cake was favourite though. I need that recipe in my life.
Overall a fantastic lunch and the kids menu alone would bring me back. The restaurant is in a stunning building which used to be a bank and some of the original features still remain. The vault downstairs is stunning. The service was quick and our waitress was great.
In terms of price the menu is more expensive than new rivals Gino D'Acampo My Restaurant, and the service wasn't as personal. But that's just a personal opinion and not something that would stop me coming back.
Disclaimer: Our mains and drinks were provided free of charge by Jamie's Italian.