As you guys know I am a huge lover of Italian food, however I am also a creature of habit and once I find a great Italian restaurant I tend to frequent there rather than try somewhere new.
Pizza is a food that we love in my house and the topic of the best pizzas in Manchester always comes up at blogging events. Proove is a restaurant which is always mentioned, however for some reason I had never visited, even though the West Didsbury restaurant is local to me.
Proove is nestled on the trendy Burton Road in West Didsbury, close to a range of shops and restaurant's. The restaurant opened in 2017 following a successful first launch in Sheffield in 2015. The owners, Deepak Jaiswal and Rob Engledow wanted to create an authentic Neapolitan restaurant which focuses on fuss-free dining, using the finest ingredients, wine and products from Naples and the surrounding Campania region, but at an affordable price. Another important factor was the design of their restaurants, with a focus on simple interiors to create a relaxed enviroment which is the norm in Naples.
We visited for dinner on a Monday night and on first impressions it comes across as a very relaxed restaurant and not pretentious at all (which can be common for Didsbury restaurants). Dimmed lights, spacious and an open-plan kitchen gives you that home away from home feel.  It's always nice to feel comfortable when dining with a child, and our waiter made an effort of starting a conversation with Amber and bringing over a colouring in set which immediately put her at ease and allowed Drew and I to have a good read at the options available on the regular and specials menu.
Drinks
Mango & Passion Fruit Collins, Mocktail. Mango juice & passion fruit syrup topped with soda and served with a twist of lemon & fresh passion fruit. This mocktail was refreshing, delicious and a good alternative if you aren't drinking but want a pretty looking and fruity tasting drink.
Starters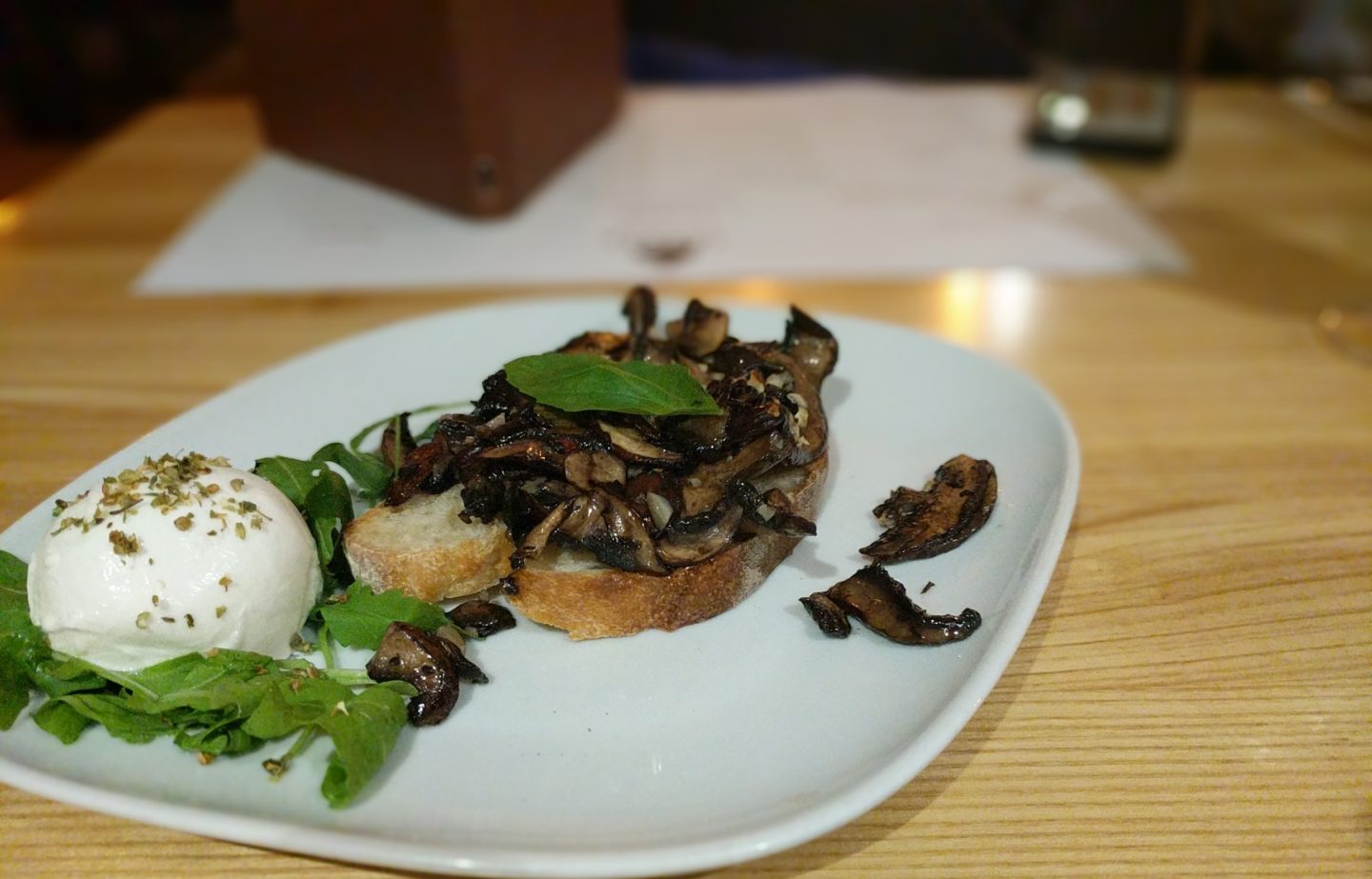 Mushroom Bruschetta with Garlic Infused Extra Virgin Olive Oil. This was a delicious start to our meal, and the generous amount of garlic satisfied my taste buds. The Fior di Latte mozzarella was extremely creamy and of exceptional quality.
Fritto Misto, a mix of Arancini, Crooche & Angioletti. This was Drew's starter and was well as variety, this was well prepared and presented. The portion was generous as you can see.
Mains
Americana Pizza. This pizza stood out to me straight away. Wood fired pizza topped with pepperoni, roasted peppers, San Marzano D.O.P. tomatoes & Fior di Latte mozzarella. The only thing missing from the description was some spice, so I added fresh chillies for a small charge, and what was created was easily one of the best pizzas I have ever tasted. Absolutely divine dough which is crispy on the outside but soft and chewy on the inside. It's very rare for me to finish a whole pizza, but I didn't leave a crumb. I can see why Proove is labelled as the best pizzas in Manchester!
Pizza Porchetta. This was Drew's choice from the Special's menu and comes on a white pizza base. Having pork and potatoes on a pizza is alien to me, and if I'm honest I wasn't convinced when I read the description but Drew insisted that I try his and it really is something special. I can only describe it as being like a roast dinner on pizza dough with a generous helping of thyme, crispy pork and a nice chewy base. Great addition to the menu and I can imagine that it's a firm favourite. Definitely one to try.
Desserts
Zeppole. This was another choice from the specials menu, and is a popular Italian pastry consisting of deep-fried dough balls, which are served as they are or filled. I found the custard filling generous but a little on the sweet side for my taste. However Drew has a big sweet tooth and had no complaints, so if you have a sweet tooth you will love this.
Hazelnut and Vanilla Gelato. There were so many delicious sounding desserts on the menu but I wanted something refreshing and light and decided on a scoop of the hazelnut ans vanilla gelato. After one mouthful I was already regretting not asking for 3 scoops! This was quite simply the best gelato I have ever had, so much flavour which lingered long after I finished. Fresh, light, creamy and authentic.
Proove also have a fantastic Kids menu which is only £7.50 for 3 courses. Amber had the dough bites with garlic dipping oil, a margherita pizza (you can add salad for 50p) and the chocolate brownie with ice-cream. There is also a selection of kids mocktails and shakes for £3.50, Amber loved the Tropical Twist mocktail. The gelato shakes come in four flavours, with or without cream and fresh fruit can be added.
Proove's ethos are simple. They want to create authentic Neapolitan food which uses only the finest and best quality produce. Normally this would set you back financially but the guys have managed to offer this alongisde an affordable menu to make their restaurant accessible to any budget. I have spent the last few days pricing their competitors and Proove is easily the best priced pizza restaurant on the high street.
What also sets them apart is their fantastic staff. The guys on shift were attentive and laid back whilst giving us time to have a conversation and enjoy our meals without constantly asking how our food was which is very welcome when you just want to enjoy your meal after a long day. One waiter we spoke to was very passionate about the menu and was very knowledgeable on what was on offer. Proove offer a daily specials menu which Drew ordered from, and which I can imagine is very popular. There was an autumnal pumpkin dish on there which I would be keen to try next time.
Overall we had a fantastic evening and our only regret was not dining here sooner.
You can follow the Proove guys on social for more foodie pictures.
*Our meals were complimentry in return for an honest review.*