If you are a Manchester foodie you will no doubt have heard of Turtle Bay Caribbean restaurant which has two bases in Manchester. One in the Northern Quarter and one on Oxford Road (where we visited on this occasion). Turtle Bay is as famous for it's amazing cocktails as it is for its food, making it a firm favourite this time of year for Christmas parties. As a matter of fact two years ago the company I worked for held their Christmas night out there and it was fabulous. Lovely lively atmosphere, great food and 2-4-1 cocktails.
Turtle Bay are of course bringing their amazing Christmas menu and cocktails back this year, and recently held a V.I.P launch which sadly I was unable to attend, however my family and I were invited for a meal earlier this month.
We decided to book in for a Saturday lunchtime treat and as mentioned above, the atmosphere was already lively even though the restaurant was only half full at this point. The music, bright lights, colourful interior and delightful staff give Turtle Bay a great atmosphere at any time of day. This was Amber's second visit (we attended a kids menu launch in October) and she was very excited to be back.
Let's talk about the menu. It is impossible to choose, every single item sounds delicious, and that's just the cocktails! So after about 10 minutes of constantly changing our minds, we made a decision.
Cocktails- Reggae Rum Punch
Wray & Nephew overproof rum, strawberry, grenadine, lime, bitters & pineapple juices. Luckily the 2-4-1 cocktail offer was on so Drew and I had one each.
Starters- Duck Rolls, Jerk Glazed Pit Ribs,Dumplings
I had the duck rolls which are slow roasted with sweet onion, rolled flatbread, coconut butter, sour orange chutney. The flatbread has a roti/chapati texture making it nice and firm and the filling is generous with the sour orange chutney adding a whole new dynamic.
Drew had the Jerk Glazed Pit Ribs, which were seasoned perfectly and fell off the bone. Once again the portion was generous and Amber loved this too, meaning it would also be a popular choice for kids.
We also shared a portion of dumplings, lightly seasoned, firm, soft in the middle and delicious even on its own.
Amber's kids meal came with dips & dippes which was brought out with our starters. This consisted of hummus & smashed avocado with carrot, cucumber, red pepper, and flatbread dippers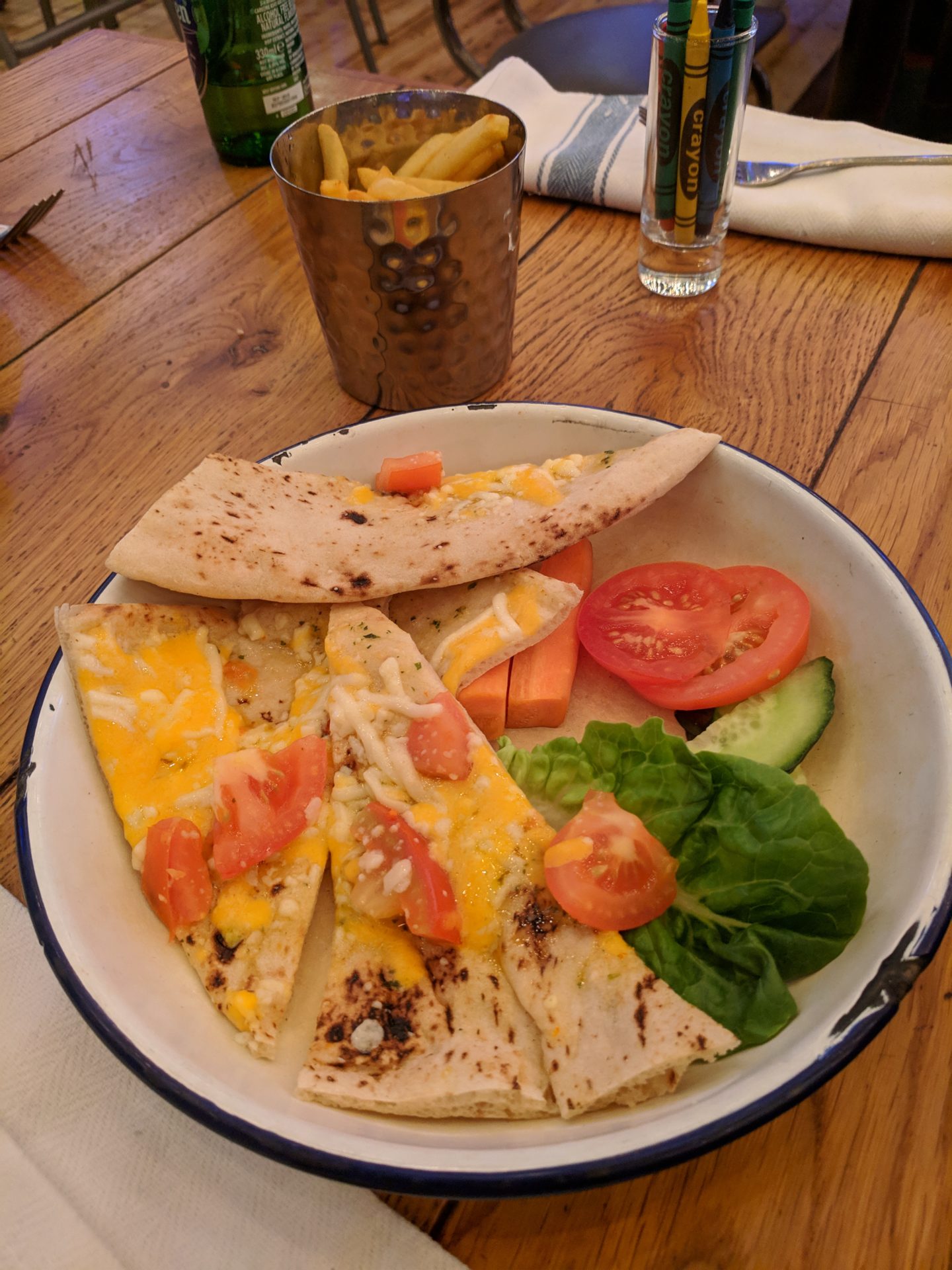 Mains- Mo' Bay Chicken, Pork Belly, Flatbread Pizza
I had the Mo' Bay Chicken. Chicken breast, creamy jerk, coconut rice 'n' peas, sweet plantain and dressed salad. This was recommended to my by a fellow food blogger friend and it didn't disappoint at all. Succulent chicken, sauce with so many layers of flavour to it, balanced perfectly with the sweet plantain and a generous portion of rice and peas.
Drew had the Belly Pork. something which he always orders when we eat out. The pork is cooked in spicy jerk and is served coconut rice 'n' peas, chilli pineapple salad seasoning and a choice of jerk sauce. I tried a few mouthfuls and was blown away, perfect amount of spice, soft and juicy pork and a delicious pineapple salsa which married perfectly with the spice of the pork. This is a dish I would order next time.
Amber had the kids cheese and tomato flatbread pizza which she loved, however a few of the slices came with hardly any cheese, making these slices quite dry and left to one side. The flatbread pizza is a great idea especially for younger kids.
Dessert- Caymanas Upside Down Rum Cake, Spiced Rum & Chocolate Pot, Chocolate & Vanilla Ice-Cream
The Caymanas Upside Down Rum Cake was an easy decision for me. I love rum and I love upside cake! This was portioned extremely well and definitely generous with the rum. The warm cake was balanced well with the sweet vanilla ice-cream. Possibly one of the best desserts I have ever had.
Drew chose the Spiced Rum & Chocolate Pot. This had a surprise spicy element to it, think of chilli chocolate, but it worked really well. Lovely indulgent pot which has so much more to it than the humble photo or description suggests.
Amber went for the kids Chocolate & Vanilla Ice-Cream. This was portioned well, not small and not too generous meaning she finished it all and was satisfied.
We had a fantastic meal, there are so much aspects which makes Turtle Bay a fantastic dining choice. Whilst dining we saw a hen party, an older couple, families and young teenagers. It's a restaurant which is suitable for everyone, and offers a great choice of meat-free meals too.
We can't wait to come back!
*Our meal was complimentary in return for an honest review.