As you know I am a big lover of Italian food, so I was excited when I received an email two weeks ago inviting me to review Italian restaurant Vapiano. The brief was to try out dishes from their Eat Pasta Run Faster campaign which Vapiano have teamed up with Registered Dietician and Nutritionist, Dr Sarah Schenker to promote a balanced diet of carbs and protein aimed towards runners and anyone partaking in regular sport.
The campaign is great as it gives sensible advice on carb loading, pre race nutrition and recovery nutrition.
Vapiano is a German-owned restaurant with a strong emphasis on fresh food. I was shown the area where their pasta is made fresh every morning and their pizza preparation area. Everything is cooked in front of you, giving you the illusion of having your own private chef.
On arrival you are given a card, this card is used to order all your food and drinks. You simply visit each individual bar and order your food, scan your card on the counter and watch your meal prepared right in front of you. We visited on a weekday at lunchtime so it was quiet and no queues, however I can imagine it being quite frustrating to wait in a queue on a busy evening especially if you are dining in a large group. Because the food is cooked individually for you, this means that in a group you could all be eating at different times and leaving the table mid-conversation to order.
I must say the restaurant itself is stunning. Spacious and filled with plenty of fresh herbs and plants on your table. We sat facing the outside of the Corn Exchange.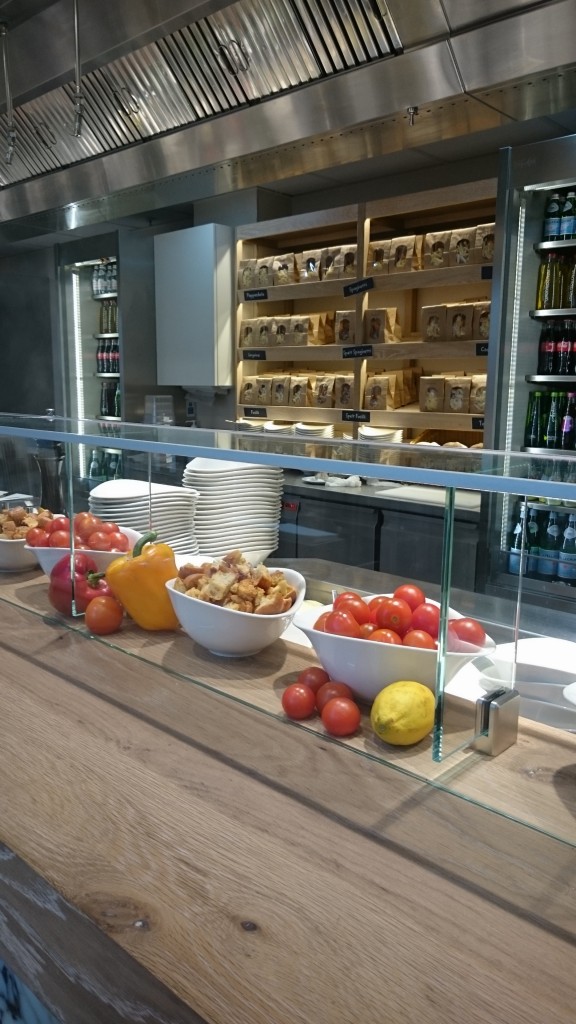 Now to the food.
Starters
I went for the strawberry spinach salad which was incredible. Plenty of goats' cheese and topped with a raspberry and-maple dressing.
Drew went for the Piatto Antipasti, a mix of cold meats, roasted vegetables, buffalo mozarella and bruschetta.
Mains
For mains I ordered the Salmone from Sarah's recommendation. You are able to choose from a variety of pastas, I went for spelt and was able to request extra garlic and lots of chilli, the benefit of having your food cooked in front of you is that you can tailor it your taste.
Drew also went for one of Sarah's recommendations, the Rucola Ravioli which is a recovery meal that helps repair muscles and prevent soreness.
Sadly I didn't get to try the ravioli as Drew wolfed it down in seconds.
The chef insisted we try a pizza too. Yum.
Desserts
For our dolci I went for the Bacio (best dessert I have ever tasted) I can't even describe how good this was. It's chocolate and hazelnut blended on a biscuit base, topped with chopped hazelnuts.
Drew struck to tradition and had the Tiramisu. Total winner again, great portion size and plenty of flavour.
Special thanks to Vapiano for inviting us down and to the manager, Marius who did a great job of looking after us and showing us around. We'll be back!
*Disclaimer- All meals and drinks were complimentary.